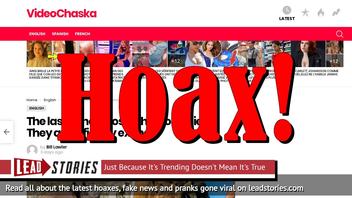 Did the last rhinoceros in the world just die and are they now officially extinct? No, despite the claims in a clickbait article, the last black rhino did not die after a transfer to a new reserve in Kenya. While it is true several black rhinos died after such a transfer recently, they were not the last ones alive. The clickbait story is not true.
The story appeared in an article published by VideoChaska on July 30, 2018 titled "The last rhinoceros in the world dies. They are officially extinct" (archived here) which opened:
The last black rhinoceros that remained in the earth died a few days ago when he was transferred to what would be his new home, an ecological reserve that protects endangered species.

The population of black rhinos decreased in recent years and was limited to two individuals in the world, in their attempt to protect them were moved to Nairobi, an incredible site for rhinos in Tsavo East, Kenya.

The specialists have said that during the transfer different negligences happened and that the necessary measures were not taken to protect them, they arrived very restless and completely dehydrated to the place.
The VideoChaska story cited an article on Vuntu.co as its source but that site was only registered in May of this year and does not list owners, working contact info or authors so it is not possible to determine where they got the info from.
However CNN reported on July 13, 2018 that eight out of eleven black rhinos being transferred to the national park in Kenya that was mentioned in the article actually died:
Kenya is probing the death of eight rhinos at one of the country's national parks just over a week after the animals were moved.
But that leaves at least three of them alive. And the CNN article also noted:
"We have lost one percent of our rhinos in less than a week, that's like decades of conservation effort gone," Paula Kahumbu, Chief Executive Officer, WildLifeDirect told CNN.
SaveTheRhino.org tracks rhino population numbers. They say over 5000 black rhinos are left, making them critically endangered but definitely not extinct yet.