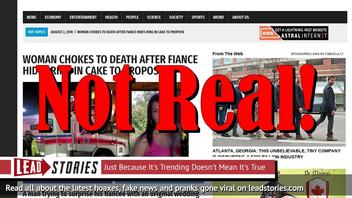 Did 27-year-old Melissa James die after choking on an enagement ring hidden in a chocolate cake by her boyfriend Martin Finn in St-Paul, MN? No, that's not true: the story was made up by a Canadian website that makes a living by inventing tales of bizarre crimes and sex acts (and the occasional weird death). It did not happen for real.
The story originated from an article published by World News Daily Report on August 2, 2018 titled "Woman chokes to death after fiance hides ring in cake to proposey" (archived here) which opened:
A man trying to surprise his fiancee with an original wedding proposal hid a $65,000 ring in her chocolate cake and accidentally caused her death after she choked on the jewel.

29-year old Martin Finn from St-Paul in Minnesota wanted to ask his 27-year old girlfriend, Melissa James, to marry him.

During a dinner at the Panera Bread restaurant in Minneapolis, he decided to surprise her by hiding the wedding ring he'd bought for her in her chocolate cake.
The girl in the picture that went with the story appeared in a 2010 blog post about a girl in Costa Rica:
Hola linda chica de la moto, podrías decirnos algo sobre ti Bueno amigos, yo soy una chica que no le gusta que estén con rodeos, también me gusta ver deportes extremos, para ser más exacta me encanta las motocicletas, tal como podrán ver en las fotos y como siempre he dicho a mis amigos y a conocidos, disfruten cada momento de la vida al máximo, ya que no sabes cuánto te dure.
And the ambulance picture comes from a 2014 news article about a carbon monoxide leak at a mall that killed someone:
The manager of a popular Long Island restaurant has died and 27 others required medical attention on Saturday night after a carbon monoxide leak filled a mall with poisonous gas. Police have identified the deceased as Steven Nelson, the 55-year-old manager of Legal Sea Foods in South Huntington.
The website World News Daily Report is a well known satire website specialized in posting hoaxes and made up stories. The disclaimer on their website is pretty clear about that even though you have to scroll all the way down the page to find it:
World News Daily Report assumes all responsibility for the satirical nature of its articles and for the fictional nature of their content. All characters appearing in the articles in this website - even those based on real people - are entirely fictional and any resemblance between them and any person, living, dead or undead, is purely a miracle.
It is run by Janick Murray-Hall and Olivier Legault, who also run the satirical Journal de Mourréal, a satirical site spoofing the (real) Journal de Montéal. Very often their stories feature an image showing a random crazy mugshot found in a mugshot gallery on the internet or on a stock photo website superimposed over a background of flashing police lights or crime scene tape.
Articles from the site are frequently copied (sometimes even months or years later) by varous fake news websites that omit the satire disclaimer and present the information as real.
We wrote about worldnewsdailyreport.com before, here are our most recent articles that mention the site: