STORY UPDATED: check for updates below.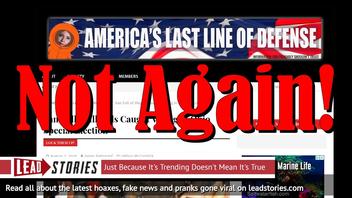 Was a van full of illegals caught illegally casting ballots in the Ohio special election? No, that's not true: a story circulating online that made this claim was posted by a satirical website that tries to trick conservatives and Republicans into sharing fake news so they can then be mocked for it. The events described in the article did not actually happen and there are several hints in it that make it clear the whole thing is not real.
The story originated from an article published by America's Last Line Of Defense on August 7, 2018 titled "Van Full of Illegals Caught Voting in Ohio Special Election" (archived here) which opened:
The Ohio special election race between Democrat Troy Balderson and Republican Danny O'Connor has been heated. Balderson has whipped out many dirty tricks, including personal attacks accusing O'Connor of being a Nazi and the usual Democrat accusations of "racism" and "Russian collusion." But now, they have gone too far! Once again, like they did in California, Pennsylvania, and New Mexico in 2016, the Leftist scumbags have recruited illegals to cast fake ballots.

The Shermer, Ohio Gazette reported Tuesday:

It was quite a scene here at Bob Moller Middle School when police suddenly surrounded a van in the parking lot. According to witnesses, the Shermer Police Department pulled nine Hispanic men out of the van.

"An investigation revealed that the men were voting in the District 12 special election for the House of Representatives to replace Republican Pat Tiberi," Police Chief Mark Wallman said. "These individuals had voted in two other locations using fake IDs." The nine men were seen and caught on security camera using their false identitication to vote for the Democrat contender.
Users on social media only saw this title, description and thumbnail, offering no clue the story was fake:
LOCK THEM UP!
Several items in the story don't make sense:
There is no place named "Shermer" in Ohio, so there is no Shermer Police Department and no Shermer Gazette either.
There is no "Bob Moller Middle School". The name does sound a bit like Robert Mueller, the head of the Special Counsel investigation of Russian interference in the 2016 United States elections and related matters.
The story references "

illegal immigrants from Mexico, Guatemala, Puerto Rico, and Cuba". Puerto Rico is a U.S. territory and its inhabitants are U.S. citizens so they are by definition not immigrants (illegal or not).

The party affiliation of Troy Balderson and Danny O'Connor is switched in the story.

The header of the site carries the warning "Information you probably shouldn't trust".
The site (and sites related to it) pulled several other hoaxes in the past involving vehicles of increasing size full of illegal immigrants voting in U.S. elections or trying to sneak past the border:
The ironically named fake news website nofakenews.online is up to its usual tricks with a story (archived here) titled "UPDATE: Van Full Of Illegals Caught Voting At Multiple Alabama Polling Locations" which opened: The Democrat Party is up to their usual dirty tricks as Republican senate candidate Roy Moore fights against their cheating ways in an effort to become Alabama's next senator.
And here's the next fake/satire story copied ( archive) by "real" fake news site Conservative Stamp: "BREAKING: Busload Of Blacks From 3 States Drove To Alabama To Vote Illegally". The article opened: As you have probably heard, some blacks care so much about democracy that they openly planned to stack the vote against Roy Moore in Alabama by committing voter fraud on a massive scale.
Did truckloads full of illegal immigrants cast fake votes in the Pennsylvania election for the 18th Congressional District? And did this invalidate Conor Lamb's narrow win over Rick Saccone? We won't know 100% certain who won until after all questions about potential recounts have been settled but one thing we do know: the story about the trucks full of illegals is a hoax and is definitely not true.
Did a passenger plane full of illegal immigrants fly over the U.S. border in an attempt to parachute across and did it all go horribly wrong for them with the skydivers landing directly in a New Mexico prison named "La Maga Laro State Prison" where they were caught by ICE?
(We are a bit surprised that it is only a vanload this time, we would have expected at least a train or cruise ship given the pattern...)
If all that isn't enough the site comes with a clear satire disclaimer at the bottom of each article:
sat·ire ~ˈsaˌtī(ə)r
noun
the use of humor, irony, exaggeration, OR ridicule to expose and criticize people's stupidity or vices, particularly in the context of contemporary politics and other topical issues.
If you disagree with the definition of satire or have decided it is synonymous with "comedy," you should really just move along.
The owner and main writer of the site is self-professed liberal troll Christopher Blair, a man from Maine who has made it his full time job to troll gullible conservatives and Trump supporters into liking and sharing his articles. He runs several other websites, including potatriotpost.us, dailyworldupdate.us and nofakenewsonline.us. Sometimes he is also known under his nickname "Busta Troll". A second man working on the sites is John Prager as revealed in this earlier story we wrote.
Articles from Blair's sites frequently get copied by "real" fake news sites who often omit the satire disclaimer and any other hints the stories are fake. Blair has tried to get these sites shut down in the past but new ones keep cropping up and he keeps knocking them down.
If you see one of his stories on a site that does not contain a satire disclaimer, assume it is fake news. If you do see the satire disclaimer it is of course also fake news.
We wrote about americaslastlineofdefense.org before, here are our most recent articles that mention the site:
2018-08-08T11:16:36Z

2018-08-08T11:16:36Z

An alert reader pointed out another inconsistency we overlooked. The article says "Democrat Troy Balderson and Republican Danny O'Connor", this has their party affiliations switched around. Troy Balderson is the Republican and Danny O'Connor the Democrat. We have added it to the list of inconsistencies.