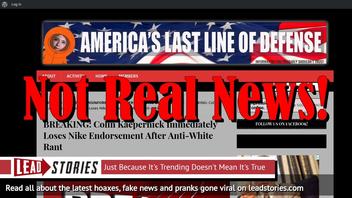 Did Colin Kaepernick immediately lose his Nike endorsement after being caught delivering an anti-white rant? No, that's not true: this story has been made up by a liberal satire website that likes to tempt conservatives and Trump supporters into sharing fake news so other people can then laugh at them for being misinformed and gullible. None of it is real.
The story originated from an article published by America's Last Line of Defense (using the domain name worstpot.us) on September 3, 2018 titled "BREAKING: Colin Kaepernick Immediately Loses Nike Endorsement After Anti-White Rant" (archived here) which opened:
As you've probably heard, anti-American NFL washout Colin Kaepernick was recently named the face of Nike's 30th anniversary "Just Do It" campaign. Kaepernick, who is currently suing NFL owners for "collusion" against him after he was deemed unfit to play in the NFL, became famous with liberals when he disrespected our flag and country by kneeling during the National Anthem to protest law enforcement.

The contact is a "wide endorsement" that was to include shoes, shirts, jerseys and more branded in Kaepernick's name. But there's a problem -- Kaepernick lost the endorsement almost as soon as he got it when his anti-white attacks got him in trouble with Nike leadership.
The Kaepernick-Nike endorsement part is real though, but everything else is made up:
Nike selected former San Francisco 49ers quarterback Colin Kaepernick as the face of its "Just Do It" campaign, which is celebrating its 30th anniversary...
The site comes with a clear satire disclaimer at the bottom of each article:
sat·ire ~ˈsaˌtī(ə)r
noun
the use of humor, irony, exaggeration, OR ridicule to expose and criticize people's stupidity or vices, particularly in the context of contemporary politics and other topical issues.
If you disagree with the definition of satire or have decided it is synonymous with "comedy," you should really just move along.
The owner and main writer of the site is self-professed liberal troll Christopher Blair, a man from Maine who has made it his full time job to troll gullible conservatives and Trump supporters into liking and sharing his articles. He runs several other websites, including potatriotpost.us, dailyworldupdate.us and nofakenewsonline.us. Sometimes he is also known under his nickname "Busta Troll". A second man working on the sites is John Prager as revealed in this earlier story we wrote.
Articles from Blair's sites frequently get copied by "real" fake news sites who often omit the satire disclaimer and any other hints the stories are fake. Blair has tried to get these sites shut down in the past but new ones keep cropping up and he keeps knocking them down.
If you see one of his stories on a site that does not contain a satire disclaimer, assume it is fake news. If you do see the satire disclaimer it is of course also fake news.
We wrote about worstpot.us before, here are our most recent articles that mention the site: