STORY UPDATED: check for updates below.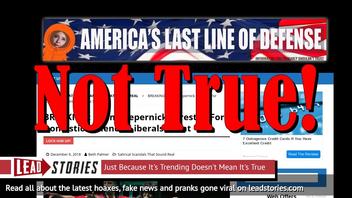 Was Colin Kaepernick arrested on a domestic violence charge? No, that's not true: the story was put out by a liberal satire website that uses fake stories to teach gullible Trump supporters and conservatives not to blindly share and like stories on the internet without actually reading them first. Most of the time the stories are quite funny and obviously satirical in nature, with many hints in the text like funny names, absurd bits of reasoning or misused jargon. This story reads mostly like a news report though and could be easily taken for real if it is copied by a fake news site that does not carry satire disclaimers and warnings, something which has often happened with past stories from the site and the network it belongs to.
The story originated from an article published by America's Last Line of Defense on December 7, 2018 titled "BREAKING: Colin Kaepernick Arrested For Domestic Violence, Liberals Silent" (archived here) which opened:
Like all liberal heroes, Colin Kaepernick has again revealed his true nature. At the height of the "Me Too" movement, which mostly attacks white men who liberals say are violent sexual predators, one person is being left out. Despite his arrest last month, which wasn't reported by the mainstream media, former 49ers quarterback Colin Kaepernick will be accepting the Courage Award at a gala hosted by the Clinton Foundation next week.

Kaepernick was arrested after a report of a "disturbance" at his home in Long Island, New York on Saturday. According to his girlfriend, daytime TV actress Hope Belle, Kaepernick became angry after drinking and "began punching" her repeatedly. When she attempted to call the police, he took away her phone, according to Long Island police captain James Westingford III.
Users on social media only saw this title, description and thumbnail and would not have known it was not real:
Of course liberals are silent.
We weren't able to find an actress named "Hope Belle" and Kaepernick's girlfriend is named Nessa Diab:
🎯 @ raylewis https://t.co/N9k7nDgmDh- NESSA (@nessnitty) August 03, 2017 Colin Kaepernick's girlfriend shocked the world on August 3 when she posted a tweet that appeared to compare Ravens owner Steve Bisciotti to a slave owner. The tweet came after rumors emerged that Ravens coach John Harbough and General Manager Ozzie Newsome were keen on a deal that would bring Kaepernick to Baltimore.
The site comes with a clear satire disclaimer at the bottom of each article:
sat·ire ~ˈsaˌtī(ə)r
noun
the use of humor, irony, exaggeration, OR ridicule to expose and criticize people's stupidity or vices, particularly in the context of contemporary politics and other topical issues.
If you disagree with the definition of satire or have decided it is synonymous with "comedy," you should really just move along.
In addition to that it was posted in the category "SATIRICAL SCANDALS THAT SOUND REAL".
Still, satirically accusing a real person of a heinous crime like domestic violence seems a tad unfunny to us, especially if that person hasn't done anything to deserve that kind of treatment.
The owner and main writer of the site is self-professed liberal troll Christopher Blair, a man from Maine who has made it his full time job to troll gullible conservatives and Trump supporters into liking and sharing his articles. He runs several other websites, including potatriotpost.us, dailyworldupdate.us and nofakenewsonline.us. Sometimes he is also known under his nickname "Busta Troll". A second man working on the sites is John Prager as revealed in this earlier story we wrote.
The supposed author of the story is "Beth Palmer", a clear reference to Beth(ania) Palma, a writer from fact checking website Snopes that has long been involved in a feud with Blair and Prager.
Articles from Blair's sites frequently get copied by "real" fake news sites who often omit the satire disclaimer and any other hints the stories are fake. Blair has tried to get these sites shut down in the past but new ones keep cropping up and he keeps knocking them down.
Blair and his operation were profiled by the Washington Post on November 17, 2018 by Eli Saslow:
November 17 The only light in the house came from the glow of three computer monitors, and Christopher Blair, 46, sat down at a keyboard and started to type. His wife had left for work and his children were on their way to school, but waiting online was his other community, an unreality where nothing was exactly as it seemed.
If you are interested in learning more about Blair and the history of his sites, here is something to get you started:
STORY UPDATED: check for updates below. Yesterday Eli Saslow at the Washington Post wrote a fantastic article about Christopher Blair, a man from Maine who has been trolling conservatives and Trump supporters online for years and occasionally even made a living out of it.
If you see one of his stories on a site that does not contain a satire disclaimer, assume it is fake news. If you do see the satire disclaimer it is of course also fake news.
NewsGuard, a company that uses trained journalist to rank the reliability of websites, describes wearethellod.com as:
A site that publishes false stories and hoaxes that are often mistaken for real news, part of a network named America's Last Line of Defense run by hoax perpetrator Christopher Blair.
According to NewsGuard the site does not maintain basic standards of accuracy and accountability. Read their full assessment here.
We wrote about wearethellod.com before, here are our most recent articles that mention the site:
2018-12-11T19:11:55Z

2018-12-11T19:11:55Z

We were contacted by John Prager, the author of the story, who asked us to add following comment:

It's worth noting that these were the details of Track Palin's arrest (with location changed) as well as almost exact quotes, which conservatives didn't care about. Interesting what happens when you apply a black face to the same situation. Also, the Redskins passed on Kaepernick to hire someone who was accused of domestic violence, which also got a shrug from conservatives. But boy do they care when it's Kaepernick! An article about Palin's domestic violence arrest is prominently linked in the article.
Satire doesn't have to be "funny." No one laughed when Swift wrote "A Modest Proposal." He got his point across, but people reacted much the same way they do to LLOD. There is nothing funny about the way Kaepernick is treated. That's the point: where white domestic abusers get a pass and "we should learn all the facts before rushing to judgment," Kaepernick doesn't even get the benefit of conservatives clicking a single link to find out if it's real or not.