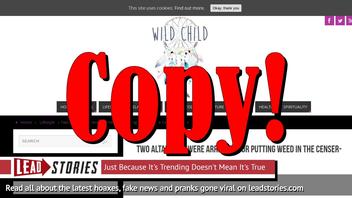 Were two altar boys in Santiago de Compostela, Spain arrested for putting weed in the censer burner instead of incense? No, that's not true: a South African website copied a story from a Spanish satire website. It is not real.
The story reappeared and went viral again via an article published by The Wild Child on December 5, 2018 titled "Two Altar Boys Were Arrested For Putting Weed In The Censer-Burner" (archived here) which opened:
What started as a joke ended with the future of two altar boys from Spain. They were detained overnight, after having surprised them putting weed in the censer-burner of the Cathedral of Santiago de Compostela. The censer-burner is used the Cathedral of Santiago de Compostela to celebrate the Epiphany of the Lord. Several assistants stated that in this occasion the holy precinct was suddenly covered in an odd smell "it did not smell as always, it was a familiar smell but I could not relate it to anything, but in my son's bedroom sometimes smell like that".
Users on social media only saw this title and thumbnail:
We debunked an earlier copy of this hoax back in February 2018:
Did you read the story about the two priests in Santiago de Compostela in Spain who were arrested after they put weed in the thurible? It is not true: it originated on a Spanish satire website. (If you didn't know: a thurible is a vessel suspended by chains that is used to burn incense during various Christian worship services.)
The original story came from "There Is News" (archived here). That site carries a "Legal Warging" (archived here) that reads:
Legal Warging

The site "There is news" (http://thereisnews.es) (hereinafter referred to as TIN) is a humor site whose purpose is entertainment.

The content of TIN is fiction and does not correspond to reality.

All references, names, brands or institutions that appear on the site are used as contextual elements, as in any novel or fiction account.
(Note that the site thereisnews.es doesn't exist, only the .com version is live)
The site is the English language version of the Spanish satire site Hay Noticia, which is owned by Spanish humor website/collective La Fabrica de la Comedia S.C.