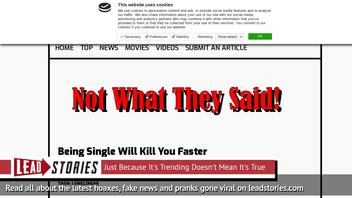 Did scientists say being single will kill you faster than obesity? No, that's not true: a clickbait site misinterpreted a study and put a claim in a headline that is not actually made by the scientists.
The story originated from an article published by TruthTheory on January 21, 2019 titled "Being Single Will Kill You Faster Than Obesity, Say Scientists" (archived here) which opened:
A shocking study revealed that loneliness can be more dangerous than obesity. We have always known that humans are social animals but it turns out that it is actually crucial for our existence in society. The statistics say it all - loneliness can result in a 50% increase in chances of dying early, which is much lesser than the 30% risk that obesity presents. Yet, somehow, we do not know much about this problem, as it remains hidden in the media. It can be dubbed as another example of why the invisibility of mental issues can result in covering up of it, despite being a potent cause.
Users on social media only saw this title, description and thumbnail, strongly implying that not being in a relationship is somehow more deadly than being obese:
By Mayukh Saha A shocking study revealed that loneliness can be more dangerous than obesity. We have always known that humans are social animals ...
The actual study can be found here and it combined data from a wide array of studies to see if there was a connection between social relations and increased mortality risk.
Julianne Holt-Lunstad, Timothy B. Smith, J. Bradley Layton Subject Areas For more information about PLOS Subject Areas, click here. We want your feedback. Do these Subject Areas make sense for this article? Click the target next to the incorrect Subject Area and let us know. Thanks for your help!
It did find a connection existed and that it could indeed be compared to the risk from obesity:
These findings indicate that the influence of social relationships on the risk of death are comparable with well-established risk factors for mortality such as smoking and alcohol consumption and exceed the influence of other risk factors such as physical inactivity and obesity.
But it remarked that this effect was strongest when taking into account "complex measurements of social integration", i.e. the whole of a person's social life and that it was much weaker when only considering simple yes/no factors (like single vs. married):
Importantly, the researchers also report that social relationships were more predictive of the risk of death in studies that considered complex measurements of social integration than in studies that considered simple evaluations such as marital status.
This seems to make sense: single or not, if you have a strong connection with friends, colleagues or family you can probably count on them helping you out in difficult times while somebody who lives isolated (perhaps with a spouse, or maybe not) and lacks in outside social contact will have a much harder time coping with difficulties. Not all lonely people are single, and not all singles are lonely...