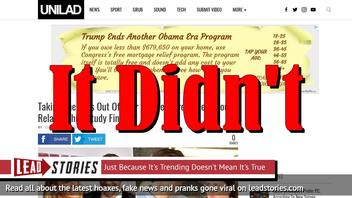 Did a study from the University of Kansas find that mocking your partner strengthens your relationship? No, that's not true: a lighthearted summary of some research findings was posted with a headline that misrepresents and even contradicts the announcement about the study.
The claim was made in an article published by Unilad on January 27, 2019 titled "Taking The Piss Out Of Your Partner Strengthens Your Relationship, Study Finds" (archived here) which opened:
Obviously there are going to be limits here, everything in moderation and what not, but a study has found that some light-hearted mockery between you and your partner can work wonders for your relationship.

Over the last 30 years, Jeffrey Hall from the University of Kansas has conducted 39 studies, involving over 15,000 people, and he discovered that humour is a critical part of building a strong relationship.

More specifically, he concluded it's not enough to find a partner who simply has a sense of humour - they must share your sense of humour if you want the best results.
Users on social media only saw this title and thumbnail:
However the original announcement of the study says it is all about sharing the same sense of humor, not mocking each other:
Relationship success tied not to joking but shared sense of humor, researcher says
In fact, the article specifically warns agains "taking the piss" too often:
Hall cautions that research warns a mate not to make his or her partner the butt of a joke.

"Having an aggressive sense of humor is a bad sign for the relationship in general, but it is worse if the style of humor is used in the relationship," Hall said. "If you think that your partner tells mean-spirited jokes, then it's likely you've seen that firsthand in your relationship."

The bottom line, Hall says: "It's good to have humor. It's better to see it in your partner. And it's best to share it."
NewsGuard, a company that uses trained journalist to rank the reliability of websites, describes unilad.co.uk as:
A British website targeting young audiences that gathers most of its content from other online sources. Previously notorious in the U.K. for producing misogynist content, the site has since come under new ownership and rebranded.
According to NewsGuard the site can generally be trusted to maintain journalistic standards. Read their full assessment here.
We wrote about unilad.co.uk before, here are our most recent articles that mention the site: