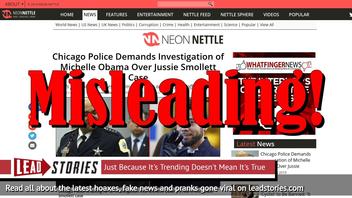 Did Chicago police demand an investigation of Michelle Obama over the prosecutors' decision to drop charges against actor Jussie Smollett? No, that's not true: While Chicago's Fraternal Order of Police is calling for a federal investigation of the decision, the FOP is targeting Cook County State Attorney Kim Foxx, who was contacted by a lawyer who once served as the former U.S. first lady's chief of staff about the case
Misleading stories making this false claim include an article published on March 28, 2019 titled "Chicago Police Demands Investigation of Michelle Obama Over Jussie Smollett Case" (archived here) which opened:
The Chicago Fraternal Order of Police is calling for a full investigation into the role Michelle Obama and former Obama Chief of Staff Tina Tchen played in the Jussie Smollett hate crime hoax case. The Chicago Police Department is understandably furious over the announcement that all charges will be dropped in the Jussie Smollett case, especially considering the official reason given strains credulity.
Users on social media only saw this title, description and thumbnail:
Calls for probe into roles of former first lady and chief-of-staff Tina Tchen - The Chicago Fraternal Order of Police is calling for a full investigation into the role Michelle ... | NEON NETTLE
The dismissal of charges against Smollet, who had falsely claimed he was attacked on a Chicago street by two Trump supporters who yelled anti-gay slurs, has triggered a firestorm of criticism and questions from several sides. Chicago Mayor Rahm Emanuel, who served as President Obama's chief of staff, has been one of the most vocal critics of the decision. "I'm reminded of the opening scenes of Hamlet when the soldier Marsella says, `Something is rotten in Denmark.' It doesn't add up. Nothing here adds up," Emanuel said.
Suspicions of an Obama connection to the dismissal were raised when it was revealed in a Chicago Sun-Times report that Tina Tchen, a lawyer who served as Michelle Obama's chief of staff, had contacted Foxx about the case. Tchen, in a written statement to the newspaper, said "I know members of the Smollett family based on prior work together. Shortly after Mr. Smollett reported he was attacked, as a family friend, I contacted Cook County State's Attorney Kim Foxx, who I also know from prior work together. My sole activity was to put the chief prosecutor in the case in touch with an alleged victim's family who had concerns about how the investigation was being characterized in public."
Photos of Smollett with the Obamas have been offered as evidence of Michelle Obama's interest in the case.
The full statement from the Fraternal Order of Police can be read here. It includes an excerpt of a letter FOP President Kevin Graham sent to U.S. Attorney John Lausch requesting a federal investigation of the matter. Contrary to the headline in the Neonnettle.com story, it makes no reference to Michelle Obama.
"Such conduct merits a review by your office. Private attorneys are not allowed to interfere with ongoing police investigations, particularly at the request of private individuals associated with subjects being investigated by the police, in this case, a subject later determined to be the offender, not the victim," Graham said in the letter.

"According to the media reports on public documents, one of Smollett's relatives was communicating with Ms. Foxx about her request to transfer the case to the FBI. . . . As you probably also know, Ms. Foxx ultimately recused herself from this case as a prosecutor based on those communications with relatives of Jussie Smollett. That recusal is wholly insufficient. In order for Ms. Foxx to properly charge and try this case, her entire office should have recused itself and a special prosecutor been appointed."
NewsGuard, a company that uses trained journalist to rank the reliability of websites, describes neonnettle.com as:
A website publishing stories about politics, culture, science, and health that routinely reports false information and spreads conspiracy theories.
According to NewsGuard the site does not maintain basic standards of accuracy and accountability. Read their full assessment here.
We wrote about neonnettle.com before, here are our most recent articles that mention the site: