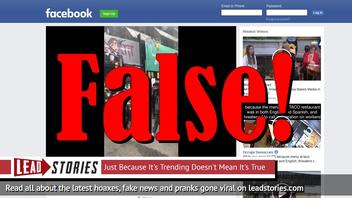 Did muslims rally in New York City demanding their sharia rights? No, that's not true: A video posted on a pro-Trump facebook group page purporting to show a March 24, 2019 demonstration demanding "sharia rights" was actually an anti-hate march organized by several Islamic groups to denounce white supremacy after the New Zealand terror attacks. There was no demand for sharia law to be adopted in New York.
The video was in a post (archived here) published on March 27, 2019 under the title "Muslim Rally in New York City demanding their Sharia Rights!"
Marchers can be heard chanting "Hey, hey, ho, ho... white supremacy has got to go!" and "We want justice!" They are carrying signs with messages including:"We all bleed the same color." There is no mention about sharia law in the chants or on the signs.
Aoife Gallagher, a News Intelligence Journalist with Storyful, researched the event and tweeted about it. "THAT'S NOT TRUE," she concluded. What is true, she said, is the march was called "United Against Islamaphobia." The only thing true in the post is that the video was recorded on March 24, 2019.
This video is being shared in pro-Trump Facebook groups claiming to show a New York Muslim rally "demanding their Sharia Rights". Guess what? THAT'S NOT TRUE. (1) pic.twitter.com/6uiCA7a4NE

-- Aoife Gallagher (@aoifegall) March 28, 2019