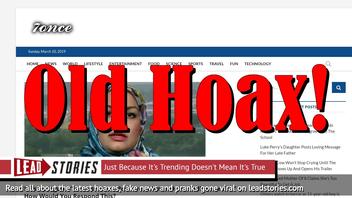 Did a "Muslim Figure" demand pork-free menus and did she threaten to leave the U.S. if the request wasn't complied with? No, that's not true: the story has been repeated over and over again by dozens of websites using pictures of several different muslim women but none of them have made this demand. The article seems to be mostly used to attract likes, shares and comments in order to build up audiences for new fake news websites given that many versions of the article use a headline that ends in "How Would You Respond This?" or "What's Your Response?".
The latest copy of the story appeared in an article published on March 4, 2019 on a website named 7once titled "Muslim Figure: "We must have Pork-Free Menus Or We Will Leave U.S." How Would You Respond This?" (archived here) which opened:
The Islamic "rebellion" in the USA is on the rise. The Islamic population within the US borders is still minor, but their lobby and their tendentious and FURIOUS propaganda are stronger than any minority propaganda ever spread on American soil.

Even the African-Americans never enjoyed supporting this much like the Muslims do. However, the Muslims, taught by the liberals how to behave and how "free" they need to be in the USA, they started showing a frustrating arrogance.

Let's face it - the United States aren't the only ones who have a problem with Muslim migrants. It affects the whole world. However, our country has had a fair share of terrible incidents that involve Muslims. They've enjoyed many privileges Obama has given them, but now, President Trump offered the perfect solution to put an end to this madness. The only thing he still has to deal with are Democrats who keep blocking his decision, because of their unconditional love for their Muslim friends.
Users on social media only saw this title, description and thumbnail:
Loading... Loading...
The oldest version of the story we could find was published on July 1, 2017 by a (now defunct) site named All News 4 USA:
Muslim migrants have turned into a worldwide issue, and the circumstance deteriorates each day. Our nation has had a considerable measure of Muslim-related issues of late, yet this time settlers went too far. President Donald Trump had the ideal answer for the issue forced by outsiders, however Democrats didn't bolster him.
It used the picture of Alaa Basatneh from a 2016 interview she gave to CNN:
Alaa Basatneh is a Muslim woman who has been wearing a headscarf for the past 12 years, but these days, when she goes outside, she switches to a hat.
Another picture frequently used with this story is that of Tahera Ahmad who was also interviewed by CNN but in 2015:
A simple request for an unopened can of Diet Coke on a United Airlines flight left Tahera Ahmad in tears.
Here is a screenshot from that interview which is frequently used in the hoax story: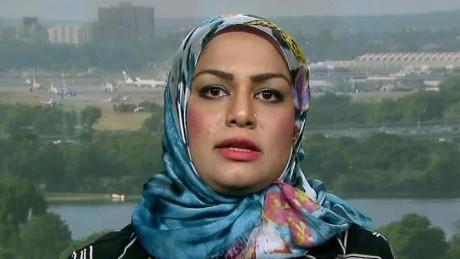 A third version of the story uses this stock photo by Honqi Zhang of a "pretty young Muslim woman head shot over black background":
Download this stock image: pretty young Muslim woman head shot over black background - E6KD7W from Alamy's library of millions of high resolution stock photos, illustrations and vectors.
A fourth version seems to be using a picture with an older woman:
Uncategorized o initial124 initialShares Even the African-Americans never enjoyed supporting this much like the Muslims do. However, the by the liberals how to behave and how "free" they need to be in the USA, they started showing a frustrating arrogance Read More... The Muslims were aware that America can offer them countless of possibilities during Obama's presidency.
This woman appears to be Parveen Sadiq who was interviewed by Channel 4 News in 2016:
A Muslim woman has issued a withering response to David Cameron's policy of integration, saying many "seemed to have forgotten" people from third world countries helped make Britain great. Her comments were prompted by the Prime Minister's heralding of a new £20 million fund to provide education for women struggling with the English language.
Several of these women don't even live in the U.S. and the story never actually names the "Muslim Figure" in question. It does reference a real incident involving muslims and pork-free menus:
The most recent act of the Muslim 'circus' happened in Chevigny-Saint-Sauveur, where they want to adjust school menus according to their needs. In other words, they wanted pork-free menus. But, Mayor Michel Roger stood up to them and refused to obey to their demands...
But that was a reference to something that happened in France in 2017 and which was reported on by Breitbart at the time:
Mayor Michel Rotger, a member of the conservative Republican party, said the move would promote secularism but would also save the local government money saying 'alternative menus' led to too much waste, L'Express reports. "We are putting an operation in place so the children eat everything and their diets are balanced.
The article about the "Muslim Figure" seems to be part of a collection of similar articles that apparently circulates among operators of fake news websites. These articles have "proven" their ability to attract clicks so they get endlessly recycled on different websites looking to cash in on gullible internet users. Often these site operators don't write or speak English well enough to create their own content so they just copy paste it, which would also explain why the phrase "How Would You Respond This?" keeps getting repeated over and over again without anyone fixing the grammar.
A few months ago when Lead Stories collaborated with Dutch fact checker Nieuwscheckers.nl to unravel a network of Macedonian fake news websites this particular story was one of the most popular ones it had published and we found several copies of it on sites belonging to the network:
Although Macedonian fake news merchants still generate thousands of Facebook likes and shares, the platform's recent measures against bad actors have drastically reduced their reach. The next step in the arms race takes the battle to Twitter. An investigation by million engagements (mainly on Facebook and Twitter, measured on January 10, 2019) on a total of 7226 articles tracked by the service.
So if you see a site publishing this story you should probably immediately distrust all other articles on it: it is likely they are just copy pasted from some bundle of articles passed around among Macedonian (and other) scammers looking to cash in on stolen content. Before liking or sharing any of it we would recommend using Google to see if the story is even recent (or true).