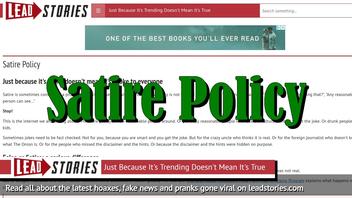 Things used to be very simple and clear-cut here at Lead Stories. We used our Trendolizer engine to look for things that were trending online that were not true (but which seemed to be believed by many people anyway). Then we would write an article explaining why that thing was not true and we would publish it. People wondering if said thing was true or not would use Google and they would then find our article and read it. End of story.
It didn't matter much how or why the story was false. Perhaps it was made up to attract clicks for money. Perhaps it was a piece of political misinformation. Perhaps it was a piece of satire or a joke that seemed real to many people. The important thing was: readers who found our article would learn why the story was not real and be on their way, perhaps even a bit wiser than before. There was little to no impact on the sites or pages publishing the false content.
But all that changed about a month ago when Lead Stories joined Facebook's Third-Party Fact-Checking Partnership. Our articles and the ratings in them now have an impact beyond just the mind of our readers: they can now also directly change the way certain stories, websites and images are treated on Facebook's platform. In some cases it might just mean additional information is presented with an article. But it might also impact the distribution of a story or the ability of a publisher to monetize their content. Quite a heavy responsibility!
Facebook has no influence or say over how we reach our conclusions. But if we find something is not true we have several options in Facebook's system. We can label such things as "False", "Mixture", "False Headline" or "Satire" and all these options have different consequences. "Satire" is the most benign one: it will just add some "Related content" under the post that we can then use to explain the joke to the people who didn't get it. It has no impact on distribution or monetization or any of that, unlike the other options.
Publishers generally have no issue with us labeling them satire, except maybe the odd grumble about it being obvious or asking if we have nothing better to do (we don't). They also have no issue if we don't label them at all when something is very obviously a joke.
Where it gets tricky is when we label content as "False" that publishers feel or claim to be satire. It is only fair to those publishers to explain clearly when and why we do this, what can be done by them to prevent it and to let them know there is also an appeals process that can be used to get us to change or remove a rating once changes are made.
For that reason today we are publishing our Satire Policy in public and we are adding it to the footer of our site.
The two most important factors we take into account when deciding between "False" and "Satire" are:
Is it obvious humor with a political or social message?
or
It is just a funny fictional story that aims to deceive people into believing it?
Disclaimers, tags, categories, hints etc. can all help in making that determination (as can an apparent effort to hide them or make them less obvious).
For details see the full Satire Policy here.