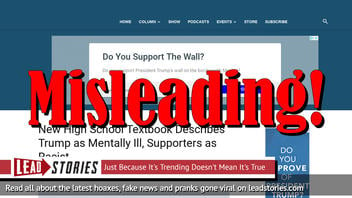 Did a high school history textbook describe President Donald Trump as mentally ill and his white supporters as racists? No, that's not true: The textbook in question cites the opinions of Trump opponents questioning Trump's mental health and it noted the majority of his support was white, but it also included critical opinions of President Obama and Hillary Clinton opponents in its summary of the 2016 presidential election. The textbook author was not describing Trump as mentally ill or his supporters as racists. The statements were the opinions of political opponents.
One example of a story misrepresenting the textbook's lessons is an article (archived here) published on April 23, 2019 under the title "New High School Textbook Describes Trump as Mentally Ill, Supporters as Racist." It opened:
Many Advanced Placement students across the fruited plain will be using an American History textbook that depicts President Trump as mentally ill and his supporters as racists. The textbook, published by Pearson Education, is titled, "By the People: A History of the United States."

It was first exposed by radio host Alex Clark in 2018. The final section of the book, titled, "The Angry Election of 2016" is especially critical of the president.

"Most thought that Trump was too extreme a candidate to win the nomination, but his extremism, his anti-establishment rhetoric, and, some said, his not very hidden racism connected with a significant number of primary voters," the author wrote.
The story appeared like this to social media users:
The controversy over "By the People: A History of the United States," an advanced placement high school history book, began in April, 2018, after FOX News interviewed high school student Tarra Snyder about her objections to the text. "I really believe that learning should be objective, and if the facts are skewed, then students aren't able to make well-rounded decisions on what they believe." The book was not being used in her class, but was being reviewed by her teacher for possible use.
Writer Todd Starnes targeted in his story the chapter titled "The Angry Election of 2016" for criticism.
The author goes on to describe the president's supporters as "mostly older, often rural or suburban, and overwhelmingly white."

"Clinton's supporters feared that the election had been determined by people who were afraid of a rapidly developing ethnic diversity of the country, discomfort with their candidate's gender and nostalgia for an earlier time in the nation's history," the textbook reads. "They also worried about the mental stability of the president-elect and the anger that he and his supporters brought to the nation."

In other words, Advanced Placement students are going to be taught that President Trump is mentally insane and his supporters are a bunch of irredeemable deplorables. Such descriptions would be laughable, but this garbage is being shoved into the minds of impressionable American teenagers.
Saying that Trump supporters were "mostly older, often rural or suburban, and overwhelmingly white" is not an inaccurate statement. The Roper Center, analysis of the voting concluded that Trump's 57-percent support among white voters was 20-points higher than Clinton's and that Clinton's 89-percent black support was 81-points higher than Trumps. Hispanic voters supported Clinton by a 38-point margin. Trump also has a 7-point advantage over Clinton among voters 65 and older.
James Fraser, the New York University history professor who wrote the chapter, sent a statement to Lead Stories defending his approach. Fraser was not presenting as fact that Trump as mentally ill, or his supporters as racists. He said he was offering "various arguments and multiple perspectives" for students to consider so they could "think for themselves, ask hard questions, look at the facts, and make up their own minds."
The chapter also included critical comments about Obama and Clinton, including criticism that they were "elite snobs out of touch with many Americans' economic pain." The book also includes a blistering opinion of the "Black Lives Matter" movement by Trump lawyer and former New York Mayor Rudy Guiliani. "When you say black lives matter, that's inherently racist. White lives matter. Asian lives matter. Hispanic lives matter. That's anti-American, and it's racist." Starnes did not object to those opinions being shared in the book.
Here is Fraser's full statement to Lead Stories:
First and most important, the last thing I want to is further divide the people of this country who are already far too divided. We need to find ways to talk to each other across deep and real divides, and listen to each other even if we will never agree, not retreat into separate corners.

As a writer and teacher I see it as my job to put the information about history, including elections in front of students as honestly and clearly as I can. I tried to do the same for Trump v. Clinton as I did for Adams vs. Jefferson or any other election. I never want to indoctrinate but to encourage students to listen to various arguments and multiple perspectives. It is the role of a textbook, or a good teacher to do that. I do want to encourage them to think for themselves, ask hard questions, look at the facts, and make up their own minds. Such informed thinking is critical to a vibrant democracy.

Keeping facts from students rightly makes them distrust all textbooks. Laying out the facts as clearly as I know how and doing so in comparison to other information or facts is the best way to encourage the kind of thoughtful engagement with history that every historian should work for.

I have reviewed the part of the text most in question and I believe that my statements about the electorate are indeed factually correct. I wrote, "Trump's supporters saw the vote as a victory for the people who, like themselves, had been forgotten in a fast-changing America--a mostly older, often rural or suburban, and overwhelmingly white group." Demographic data and polling all support that conclusion. I doubt the president would disagree. I did not call anyone a racist and I would not--in a book or a class or a conversation.

History can never be merely a collection of facts. Such a history would be boring in the extreme. Historians always make judgments but it is our ethical responsibility to make the judgments based on evidence as best we can understand it and especially in a textbook to present differing judgments.

The best history provides multiple perspectives, asks students to think for themselves, and take evidence seriously. That is exactly what I have tried to do in this book.
Pearson Education provided a PDF file of the controversial chapters so readers can judge for themselves:
By The People: A History of the United States by Alan Duke on Scribd
Pearson also issued this statement:
AP History "By the People" was developed by an expert author and underwent rigorous peer review to ensure academic integrity. This work is designed to convey college-level information to high school students and meet specific Advanced Placement standards. It aims to promote debate and critical thinking by presenting multiple sides of historical issues and offering a broad survey of arguments from the 2016 presidential election and other recent topics. We have reviewed the passages in question independently and in the context of the rest of the book. This review has confirmed that the text offers a broad view of critical arguments from both sides of the 2016 presidential election.

"U.S. history and government are important topics for students that can evoke passionate responses as they explore difficult and often controversial issues. We welcome feedback on our texts and are always willing to meet with parents and teachers to hear their concerns about textbook content as a part of our longstanding commitment and track record of providing unbiased and accurate materials."