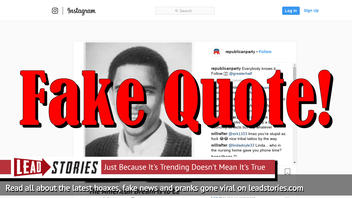 Did former President Barack Obama say in 1991 that "The American dream is to be Donald Trump"? No, that's not true: It is a quote fabricated from a passage in a class paper Obama co-wrote with a classmate while a student in 1991, but it is out-of-context and revised to falsely imply that Obama was praising the future President Trump.
The quote has circulated on social media platforms, including recently in this post (archived here) published by an unverified, but much-followed account named republicanparty on April 24, 2019 under the title "Everybody knows it". That account is not affiliated with the official Republican Party, and is linked to a website that sells "American Pride Apparel." The meme read:
'The American dream is to be Donald Trump'
Barrack Obama, 1991
Social media users saw this:
The quote has roots in a passage in a paper title "Race and Rights Rhetoric" co-written by Obama and classmate Robert Fisher when the future president was 29 years old and a student at Harvard Law School for his "Law and Society" class, according to a biography titled Rising Star: The Making of Barack Obama. While Obama and Fisher did not write "The American dream is to be Donald Trump," they did write this:
(Americans) have a continuing normative commitment to the ideals of individual freedom and mobility, values that extend far beyond the issue of race in the American mind. The depth of this commitment may be summarily dismissed as the unfounded optimism of the average American--I may not be Donald Trump now, but just you wait; if I don't make it, my children will.... (But) those of us on the political left (often forget) the degree to which coalition and consensus-building among the American electorate has necessarily precede any major federal program to reform or restructure America's economic and political landscape.
In the biography, author David Garrow described Obama's paper as an evaluation of "rights rhetoric," -- the language those seen equal rights for Black Americans. The Trump quote was a reference to why Obama and Fisher thought they should use the "language of opportunity" in discussions with White Americans.
As such, the "American dream" meme is not only not a direct quote, but it is out of context and misleading.