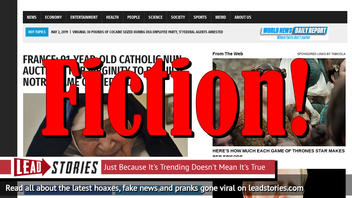 Did a 91-year-old catholic nun auction her virginity to rebuild Notre Dame cathedral in France? No, that's not true: No, that's not true: the story was made up by a Canadian entertainment website that makes a living by publishing fictional stories often involving weird crimes, bizarre sex acts or strange accidents. It is not real.
The story originated from an article published by World News Daily Report on April 26, 2019 titled "FRANCE: 91-YEAR-OLD CATHOLIC NUN AUCTIONS HER VIRGINITY TO REBUILD NOTRE-DAME CATHEDRAL" (archived here) which opened:
A 91-year-old French Catholic nun devastated by the destruction by fire of the Notre-Dame cathedral of Paris is auctioning her virginity to the highest bidder to help in the reconstruction effort of the 12th-century Gothic monument.
Antoinette DeBasile, a Dominican Sister of the Presentation of the Virgin Mary, is offering what she believes to be her most valuable asset to help raise funds to rebuild the Notre-Dame cathedral of Paris.
The website World News Daily Report is a humor website specialized in posting hoaxes and made up stories. The disclaimer on their website is pretty clear about that even though you have to scroll all the way down the page to find it:
World News Daily Report assumes all responsibility for the satirical nature of its articles and for the fictional nature of their content. All characters appearing in the articles in this website - even those based on real people - are entirely fictional and any resemblance between them and any person, living, dead or undead, is purely a miracle.
On March 20, 2019 the site added a new header that included the slogan "Where facts don't matter" to make it clearer to casual visitors the published content is fictional:

The site often uses images stolen without attribution from real news websites, sometimes showing real people who have nothing to do with the story, for example here:
The same thing happened in this case with the picture of the nun, who is actually Polish and somewhat of a hero:
Believed to be the "oldest nun in the world," Polish Dominican nun Sister Cecylia Maria Roszak has died at the age of 110, the Archdiocese of Krakow has announced. W Krakowie zmarła najstarsza siostra zakonna na świecie - Matka Cecylia Maria Roszak z klasztoru sióstr dominikanek "Na Gródku". Z okazji 110.
The site is run by Janick Murray-Hall and Olivier Legault, who also run the satirical Journal de Mourréal, a satirical site spoofing the (real) Journal de Montéal. Very often their stories feature an image showing a random crazy mugshot found in a mugshot gallery on the internet or on a stock photo website superimposed over a background of flashing police lights or crime scene tape.
Articles from the site are frequently copied (sometimes even months or years later) by varous fake news websites that omit the satire disclaimer and present the information as real. This story was picked up by a Tunisian site (archived here) that presented it as real news:
A 91-year-old French Catholic nun devastated by the destruction by fire of the Notre-Dame cathedral of Paris is auctioning her vir ginity to the highest bidder to help in the reconstruction effort of the 12th-century Gothic monument. Antoinette DeBasile, a Dominican Sister of the Presentation of t
We wrote about worldnewsdailyreport.com before, here are our most recent articles that mention the site: