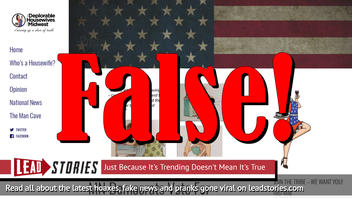 Did Minnesota Democrats vote for elementary school pornography? No, that's not true: The Minnesota state house voted a "Comprehensive Sex Education" provision that required each school district to teach sex ed, but it would not have mandated a specific curriclum. Stories falsely claimed the curriculum would be developed by Planned Parenthood and would include use of the controversial book "It's Perfectly Normal." The legislation, however, did not mention Planned Parenthood and would have allowed local schools to decide on their teaching model.
The story originated from an article (archived here) published by DeplorableHousewives.news on April 29, 2019 titled "MN Democrats Vote For Elementary School Pornography" which opened:
On Tuesday, April 23, 2019, Minnesota House Democrats voted in favor of including pornography and sexual perversions as part of the Minnesota House Education Omnibus Bill, HF2400.

The Minnesota Child Protection League (CPL) tried to warn parents and stakeholders to call their legislators to urge them to remove Comprehensive Sex Education (CSE) from the 258-page House Education Omnibus bill HF2400 before it was debated on last Tuesday. Of course, the bill was debated two days after Easter Sunday, when parents were distracted and just getting the kiddos back to school after the holiday.

Planned Parenthood will provide the CSE curriculum for Minnesota public schools and has lobbied hard for this legislation. The Guttmacher Institute, which was started in 1968 as a part of Planned Parenthood, is expected to be developing the state model policy, according to StopCSE.org, a website to educate parents on the harmful effects of CSE.
Users on social media only saw this title, description and thumbnail:
On Tuesday, April 23, 2019, Minnesota House Democrats voted in favor of including pornography and sexual perversions as part of...
This article equates sex education with pornography, using a controversial book as the primary evidence. The book It's Perfectly Normal: Changing Bodies, Growing Up, Sex, and Sexual Health (The Family Library) is described by Amazon as "the definitive book about puberty and sexual health for today's kids and teens."
For two decades, this universally acclaimed book on sexuality has been the most trusted and accessible resource for kids, parents, teachers, librarians, and anyone else who cares about the well-being of tweens and teens.
It uses cartoon drawings to illustrate sexual organs and activities, which can be shocking to parents. For that reason, it has been banned from many schools and libraries. The decision to use it in a Minnesota elementary sex ed class would be made by the local school leaders, and not by the state government under the proposal considered by the legislature.
These illustrations were included in the DeplorableHousewives.news article to demonstrate that the book is porn: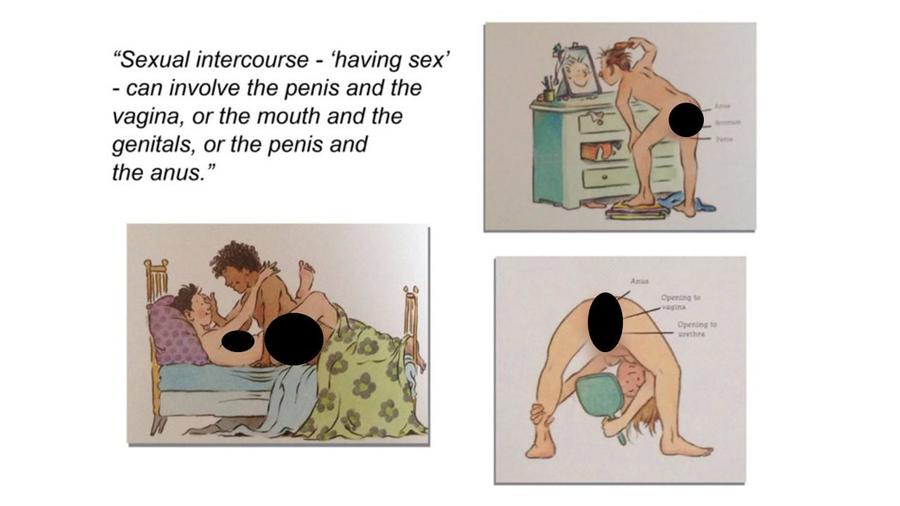 There is nothing in the legislation supported by Democrats that references this book or indicates it might be used in the sex ed classes, but if it were a mandated text, would this be pornography? Justice Potter Stewart's opinion in the 1964 Supreme Court ruling in Jacobellis v. Ohio made it clear that there was no universal definition of porn:
"I shall not today attempt further to define the kinds of material I understand to be embraced within that shorthand description; and perhaps I could never succeed in intelligibly doing so. But I know it when I see it..."
These images may be pornographic to the school superintendent in any Minnesota community, which would likely mean it would not be included in the sex ed class. The Democracts in the state house, however, dropped the sex education mandate from the education bill in the days before their annual session ended because of an impasse with the Republican-controlled state senate.