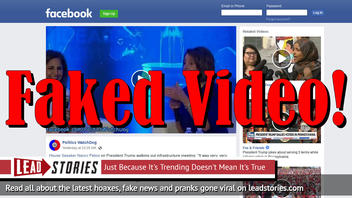 Does a video show U.S. House Speaker Nancy Pelosi slurring her words and appearing "drunk as a skunk"? No, that's not true: The video of Pelosi speaking at an event was digitally altered, with the tempo slowed down, to make it sound as if the top Democrat in Congress was intoxicated. A comparison of the original video showed it was slowed down about 25% but without changing the pitch of her voice.
The story originated from a post (archived here) where it was published by Politics WatchDog on May 22, 2019 under the title "House Speaker Nancy Pelosi on President Trump walking out infrastructure meeting: "It was very, very, very strange.". It opened:
Ladies and Gentlemen.....Your "House Speaker".....drunk as a skunk. Pathetic.
This is what social media users saw:
The heavy lifting on this debunk is courtesy of the Washington Post, which did a video analysis you can view here, which proves the video of Pelosi sounding drunk is faked. Click here to read their story and watch the video embedded below:
Pelosi was speaking on Wednesday, May 22, 2019, at a Center for American Progress event.
The idea that Nancy Pelosi is an alcoholic has been a big theme lately with Trump supporters as she battles with the president over what she calls his "cover up."
Fortunately, not ever one is falling for the hoax.