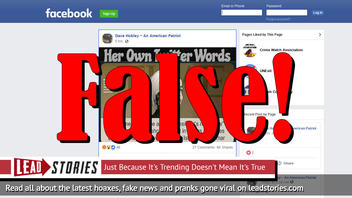 ---
Did Did U.S. Rep. Ilhan Omar say that all white men should be put in chains as slaves because they will never submit to Islam? No, that's not true: It is a made-up quote included in a meme that has circulated on social platforms and repeatedly discredited since Omar became the first Somali woman elected to the U.S. congress in November 2018.
The meme began circulating after the 2018 mid-term election and reappeared in a post (archived here) published on May 1, 2019 under the title "Her Own Twitter Words". It opened:
This is what social media users see:
The meme falsely claimed that the quotes were from Omar tweets, however, there is no evidence that ever happened. Actually, the first quote -- "I am America's hope and the president's nightmare" -- is something Omar said in an interview with Trevor Noah on The Daily Show in July 2017, which she was a Minnesota state representative.
See that interview here:
The photograph used in the meme is from a Time magazine feature on Omar after she was elected to congress. No where in the story did she say anything about white men and Islam. Read it here.