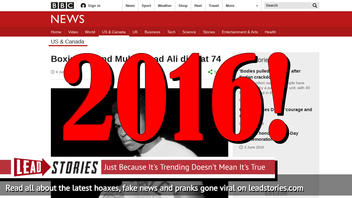 Did boxing legend Muhammad Ali recently die at the age of 74? No, that's not true: Despite tens of thousands of RIP posts for the deceased champ on June 3, 2019, Ali left the earthly ring on that date three years earlier. Many people likely saw a "memories" post shared by a friend and re-shared it without realizing it was old.
The belated condolences began spreading on Facebook on June 3, 2019, including in a post (archived here) that included a 3-year-old BBC obituary with the message "RIP Muhammad you were an inspiration to so many people." It opened:
Boxing legend Muhammad Ali - one of the world's greatest sporting figures - has died at the age of 74.
The former world heavyweight champion died late on Friday at a hospital in the US city of Phoenix, Arizona, having been admitted on Thursday.
He had been suffering from a respiratory illness, a condition that was complicated by Parkinson's disease.
Ali's funeral will take place in his hometown of Louisville, Kentucky, said his family.
Users on social media saw this title, description and thumbnail:
Lead Stories suggests that social media users think twice before clicking once to share celebrity death notices. Check the date on the story first.