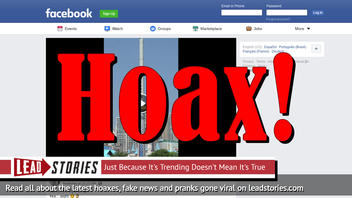 Is the Gyro Drop amusement park ride, as shown in a viral video, real, with riders rapidly twirled, dangled and dropped? No, that's not true: There is a real Gyro Drop ride at a South Korean amusement park, but the viral video first posted on the park's Instagram page was digitally altered to depict a more terrifying ride than the real one.
The video originated on the park's page, but has since been shared in a post (archived here) published on June 13, 2019. It opened:
Get on the Gyro Drop???
Yea... aight
This is what social media users see:
Gyro Drop is a real that is "coupled with VR goggles to give a simulation of a futuristic landscape during the elevation sequence,"
according to one website that reviews parks.
"After completing a short rotation at the top, the seats will be dropped, halting to a stop at the base. One can opt out of the VR goggles if needed." The Gyro Drop is in the Magic Island section of Lotte World in Sincheon-dong, Songpa-gu, Seoul, South Korea.
While it is unclear who created the fake video, it is certain it is fake. Here is the park's Instagram posts, which says (translated):
If the gyro drop doubles ...? Can everyone ride this degree or not?
This is a real video of the Gyro Drop, which is scary enough with enhancement: