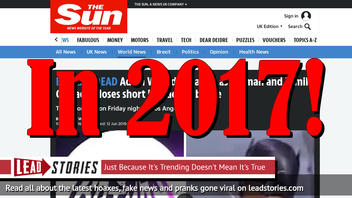 Did Batman and Family Guy actor Adam West recently die at 88 after a short leukaemia battle? No, that's not true: Adam West died on June 9, 2017, although thousands of social media users began posting condolences and R.I.P. messages on the two-year anniversary as if the actor had just died.
The belated mourning began on June 9, 2019, apparently from people who mistook a "memory" shared on timelines of an article (archived here) as being news, although it was published two years earlier under the title "BATMAN DEAD Adam West dead at 88 as Batman and Family Guy actor loses short leukaemia battle". It opened:
ADAM West, who played the hero Batman in the 1960s, has died.

The actor, who became a pop culture icon when the TV show was released in 1966, died after a short battle with leukaemia.
This is an examples of the misguided posts:
This is an ON TIME post shared in the days after West's death, posted by this author who was his real-life friend and longtime fan.
Sharing celebrity deaths with Facebook friends is such a popular activity that some people forget to check the date before posting condolences. In recent days, this happened with actor Gene Wilder and boxing legend Muhammad Ali:
Old News: Gene Wilder death: Star of Willy Wonka dies aged 83 IN 2016