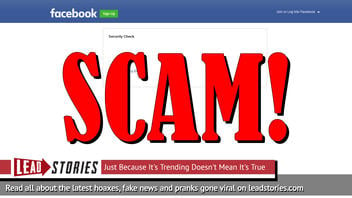 Is Duck Dynasty star Willie Robertson promising to randomly selecting 500 people who share a post on Facebook to receive $50 million in cash and prizes? No, that's not true: It is a social media scam that may help scammers steal your personal information and you will never get a penny in return. Avoid clicking on the post if you see it on your timeline.
The scam originated from a post (archived here) where it was published in 2019 under the title "CONGRATULATIONS". It opened:
𝐓𝐨𝐝𝐚𝐲 𝐢𝐬 𝐭𝐡𝐞 𝐥𝐚𝐬𝐭 𝐝𝐚𝐲...
𝐈'𝐦 𝐫𝐞𝐚𝐝𝐲 𝐰𝐢𝐭𝐡 $ 𝟓𝟎 𝐦𝐢𝐥𝐥𝐢𝐨𝐧 𝐝𝐨𝐥𝐥𝐚𝐫.
𝐈 𝐰𝐢𝐥𝐥 𝐫𝐚𝐧𝐝𝐨𝐦𝐥𝐲 𝐬𝐞𝐥𝐞𝐜𝐭 𝐩𝐞𝐨𝐩𝐥𝐞 𝐨𝐧 𝐅𝐚𝐜𝐞𝐛𝐨𝐨𝐤, 𝐞𝐯𝐞𝐫𝐲𝐨𝐧𝐞 𝐰𝐡𝐨 * 𝐬𝐡𝐚𝐫𝐞𝐬 * 𝐰𝐢𝐥𝐥 𝐫𝐞𝐜𝐞𝐢𝐯𝐞 𝐚 𝐠𝐢𝐟𝐭 𝐜𝐚𝐫𝐝, 𝐜𝐚𝐬𝐡, 𝐚𝐧𝐝 𝐚 𝐛𝐢𝐠 𝐰𝐢𝐧𝐧𝐞𝐫 𝐜𝐚𝐧 𝐰𝐢𝐧 𝐚 𝐜𝐚𝐫"𝐒𝐡𝐚𝐫𝐞 𝐧𝐨𝐰" 𝐝𝐨𝐧'𝐭 𝐦𝐢𝐬𝐬! 𝐖𝐞 𝐚𝐫𝐞 𝐰𝐚𝐭𝐜𝐡𝐢𝐧𝐠 !!!
𝐈 𝐰𝐢𝐥𝐥 𝐜𝐡𝐨𝐨𝐬𝐞 𝟓𝟎𝟎 𝐥𝐮𝐜𝐤𝐲 𝐩𝐞𝐨𝐩𝐥𝐞 𝐞𝐚𝐜𝐡 𝐨𝐧𝐥𝐲 𝐟𝐨𝐥𝐥𝐨𝐰𝐬 𝐢𝐧𝐬𝐭𝐫𝐮𝐜𝐭𝐢𝐨𝐧𝐬...
𝐒𝐭𝐞𝐩 𝟏 - 𝐥𝐢𝐤𝐞
𝐒𝐭𝐞𝐩 𝟐 - 𝐒𝐡𝐚𝐫𝐞
𝐒𝐭𝐞𝐩 𝟑 - 𝐂𝐨𝐦𝐦𝐞𝐧𝐭 ''𝐃𝐮𝐜𝐤''
This is what the post looked like to social media users:
Scammers harvest likes, shares and comments to make their pages or profiles appear more popular in Facebook's algorithm. Some of the pages are also being used to spread dodgy links to suspicious websites.
This post was likely created by the same scammers who tried to fool Ellen DeGeneres fans that the TV host was giving away huge prizes for Facebook shares. We debunked that scam with this article:
Fake News: Ellen DeGeneres NOT Giving Away Gift Cards, Cash, Car or Home To People Liking & Sharing Facebook Post