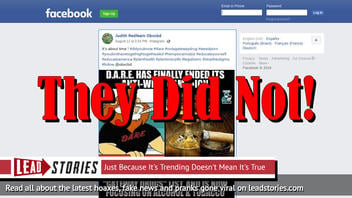 Has D.A.R.E. -- the nonprofit group that presents anti-drug education to American students -- ended its opposition to marijuana and quietly removed cannabis from the "gateway drugs" list on its website? No, that's not true: The claim that D.A.R.E. is no longer campaigning against young people smoking pot is false. The group is still sending police officers into classrooms to present lessons on why young people should not use marijuana and warnings against it are still on the website.
The false claim began with a false article in 2016, but was recently shared in a meme (archived here) published by on August 12, 2019 under the title "It's about time ! #didyouknow #dare #notagatewaydrug #weedporn #youdonthavetogethightogethealed #hempiscannabis #educateyourself #educateamerica #planthealth #plantoverpills #legalizenc #stopthestigma". It read:
D.A.R.E. HAS FINALLY ENDED ITS ANTI-WEED CAMPAIGN

THE PROGRAM'S WEBSITE QUIETLY REMOVED CANNABIS FROM THE "GATEWAY DRUGS" LIST, AND IS NOW FOCUSING ON ALCOHOL & TOBACCO

'LIKE' IF YOU THINKS IT'S ABOUT TIME!
This is what social media users saw:
D.A.R.E. -- the acronym for Drug Abuse Resistance Education -- started as a collaboration between the Los Angeles Police Department and Los Angeles public schools in 1983. It has since grown into a nationwide program involving thousands of schools and law enforcement agencies. The trend toward the decriminalization and legalization of marijuana possession and use has not, however, changed its focus of warning children that cannabis is a "gateway drug" that could lead to use and addiction to harder drugs. This is what the group currently says on its website:
We believe it is neither safe nor healthy for students and all children under the age of 18 to use marijuana. The science on this subject is clear...the use of marijuana by youth has dangerous and unhealthy consequences on many levels.

Additionally, several studies have documented the significant negative consequences of legalization including:

Increased illegal use of marijuana by minors;
Increased traffic accidents and traffic deaths as a result of driving under the influence of marijuana;
Increased emergency room visits with marijuana related overdoses;
Increased number of hospitalizations from the use of marijuana;
Increased risk of addictio
n and use of other more lethal drugs. The National Institutes of Health reports that 1 out of every 6 adolescents who try the drug will develop an addiction.

Further, while the use of marijuana may be legal in a few states, it is still not legal anywhere in the United States under Federal law. For these reasons and others, we are opposed to the legalization of marijuana.
The false claiming that D.A.R.E. stopped focusing on marijuana as a "gateway drug" emerged in February 2016 on a Reddit forum, according to HighTimes.com. It was the apparent result of an "accidental omission" on the group's website by an outside contractor in 2013 that was noticed in 2016:
Most likely, marijuana was never explicitly listed, but an accidental omission on an organization's website hardly means that D.A.R.E.'s views have changed. D.A.R.E. regularly posts articles making outrageous and laughable claims about marijuana as a gateway drug.