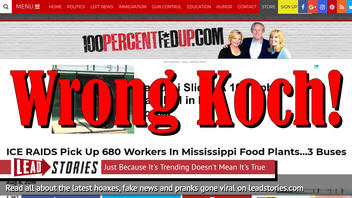 Did ICE raids that detained 680 workers at Mississippi food plants fill three buses with workers from a Koch Brothers' plant? No, that's not true: The Koch Foods plant that was raided in Morton, Mississippi, is not owned or affiliated with the billionaire Koch Brothers, who are infamous for large donations to Republican causes -- although not friendly with President Trump. Koch Foods is owned by Joseph Grendys, an Chicago, Illinois billionaire.
The false story originated from an article published by 100percentfedup.com on August 8, 2019 titled "ICE RAIDS Pick Up 680 Workers In Mississippi Food Plants...3 Buses Filled With Koch Bros. Workers" (archived here) which opened:
U.S. immigration officials raided seven Mississippi chicken processing plants on Wednesday, including at least one plant owned by the open-borders Koch brothers. Anti-Trump news organizations like NBC News attempted to tie the mass shooting in an El Paso Wal Mart last week to the ICE raid, pointing out that the shooter's manifesto railed against the "invasion" of Hispanic immigrants.
Users on social media only saw this title, description and thumbnail:
"When you use the term 'illegal alien,' that is no different than using the n-word"
The false story pointed to the feud between President Donald Trump and the Koch brothers that became heated in the summer of 2018, as evidenced by a Trump tweet attacking the "globalist Koch Brothers, who have become a total joke in real Republican circles, are against Strong Borders and Powerful Trade."
The globalist Koch Brothers, who have become a total joke in real Republican circles, are against Strong Borders and Powerful Trade. I never sought their support because I don't need their money or bad ideas. They love my Tax & Regulation Cuts, Judicial picks & more. I made.....

-- Donald J. Trump (@realDonaldTrump) July 31, 2018
Dispite the obvious conclusion that Trump doesn't like the Koch brothers, a New York Times opinion column in September 2018 -- titled "Trump and the Koch Brothers Are Working in Concert" -- suggested they need each other:
They disagree about trade, tariffs and immigration, but don't be fooled. Neither side can get what it really wants without help from the other.
Apparently, at least one pro-Trump website did not get the message and decided to conflate Koch Foods with the unrelated Koch Brothers. While Joseph Grendys, who Forbes estimates has a $2.5 billion fortune, may be a Republican contributor, he does not have a high profile in politics.
NewsGuard, a company that uses trained journalist to rank the reliability of websites, describes 100percentfedup.com as:
A conservative news site that publishes misleading and inaccurate stories and headlines. 100PercentFedUp does not regularly publish corrections or the names of its writers and editors.
According to NewsGuard the site does not maintain basic standards of accuracy and accountability. Read their full assessment here.
We wrote about 100percentfedup.com before, here are our most recent articles that mention the site: