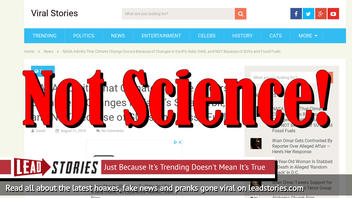 Did NASA admit that global climate change occurs because of changes in Earth's solar orbit, and not because of emissions from SUVs burning fossil fuels? No, that's not true: NASA scientists studying climate change have not changed their opinion that greenhouse gases are the primary cause of rising temperatures that will result in major environmental changes over the next decades. The changes in Earth's solar orbit and its influence on the historic ice ages -- as observed by Serbian astronomer and mathematician Milutin Milankovitch -- are considered a piece of the puzzle, but not the major factor in the contemporary challenge of global warming.
The story originated with NaturalNews.com on August 30, 2019, but was republished by other websites including an article published by techultras.com on August 31, 2019 titled "NASA Admits That Climate Change Occurs Because of Changes in Earth's Solar Orbit, and NOT Because of SUVs and Fossil Fuels" (archived here) which opened:
After many years of ignoring the left's false claims on global warming, NASA has come out and said that changes in the weather are due to our solar orbit and not because of the use of fossil fuels. Under Barack Obama, NASA actually used their money to perpetuate the myth of global warming, even though there has been no warming since 2005.

The plain truth is that our orbit around the sun is inconsistent at best, sometimes placing us nearer to the sun than at other times. That is why planets like Mars shows the effects of global warming despite no burning of fossil fuels whatsoever.
Users on social media only saw this title, description and thumbnail:
After many years of ignoring the left's false claims on global warming, NASA has come out and said that changes in the weather are due to our solar orbit and not because of the use of fossil fuels....
The article correctly noted that no fossil fuels are being burned on Mars and it is much greater distance from the Sun than Earth. Martians have not yet developed gasoline engines or coal-fired power plants. The statement that this is "why planets like Mars shows the effects of global warming" is bizarre. NASA has not tracked any "global warming" on Mars. There is no evidence that the red planet is heating up.
The claim that Earth's "orbit around the sun is inconsistent at best" is also laughable, which brings us to the biggest problems with these stories. These stories base their claims on the work of Milutin Milankovitch, who published papers nearly a hundred years ago theorizing on the effects of changes in the Earth's movements on its climate over thousands of years. These Milankovitch cycles are by definition consistent, which is why a mathematician can identify them in 1922. He compared the predictable tilt of the Earth in relation to the sun over millions of years and compared it with geological research on the planet's ice ages. His theory suggested that the Earth's cyclical relationship to the source of heat -- the Sun -- could account for the cycle of ice ages over millions of years.
The NaturalNews.com version of this claim contradicts its own headline that "NASA Admits" climate change is caused by orbital tilt its first paragraph:
For more than 60 years, the National Aeronautics and Space Administration (NASA) has known that the changes occurring to planetary weather patterns are completely natural and normal. But the space agency, for whatever reason, has chosen to let the man-made global warming hoax persist and spread, to the detriment of human freedom.
Apparently, NASA's admission is a entry on a NASA website graphically showing the planet tilting:
In the year 2000, NASA did publish information on its Earth Observatory website about the Milankovitch Climate Theory, revealing that the planet is, in fact, changing due to extraneous factors that have absolutely nothing to do with human activity. But, again, this information has yet to go mainstream, some 19 years later, which is why deranged, climate-obsessed leftists have now begun to claim that we really only have 18 months left before the planet dies from an excess of carbon dioxide (CO2).

The truth, however, is much more along the lines of what Serbian astrophysicist Milutin Milankovitch, after whom the Milankovitch Climate Theory is named, proposed about how the seasonal and latitudinal variations of solar radiation that hit the earth in different ways, and at different times, have the greatest impact on earth's changing climate patterns.
In fact, NASA's Earth Observatory states the opposite in a 2010 post in the agency's Global Warming section titled "Is Current Warming Natural?":
These natural causes are still in play today, but their influence is too small or they occur too slowly to explain the rapid warming seen in recent decades. We know this because scientists closely monitor the natural and human activities that influence climate with a fleet of satellites and surface instruments.
The only other sourcing to the claim that NASA now "admits" global warming is caused by the orbital tilt and not greenhouse gases is radio host Hal Turner, who the Southern Poverty Law Center describes as a far-right white supremacist:
On his radio show, Turner has ranted about "bull-dyke lesbians," "savage Negro beasts," "faggots," and even joked about a "portable nigger lyncher" machine. He has a nasty history of threatening political enemies, saying that they deserve to be killed and posting their addresses online. That practice caught up to him in August 2010, when he was convicted of threatening to assault and murder three federal judges.
That's hardly the resume of a climate change expert, yet NaturalNews.com and the others base their stories on Turner's post titled: "NASA: "Climate Change" and Global Warming caused by Changes in Earth's Solar Orbit and Axial Tilt - NOT MAN-MADE CAUSES":
"The climate change debate is not about science. It is an effort to impose political and economic controls on the population by the elite," wrote one commenter at the Hal Turner Radio Show.

"And it's another way to divide the population against itself, with some who believe in man-made global warming and some who don't, i.e. divide and conquer."
Lead Stories will not dive fully into the climate change debate in this article, but we can conclude that NASA has never admitted that orbital tilt is the cause of global warming and greenhouse gases are not.