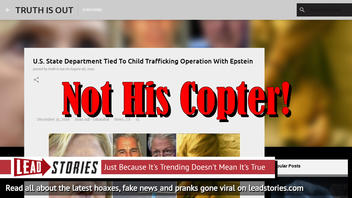 Was the U.S. State Department connected to a child trafficking operation with Jeffrey Epstein, the wealthy accused sex trafficker who died in federal jail in August 2019, by a shared aircraft registration number? No, that's not true: The false claim is based on a single entry in the personal flight log of an Epstein pilot. The August 6, 2002 entry shows the pilot flew a helicopter that carried the same tail number as used for a military-style airplane owned by the U.S. government that crashed on an anti-drug mission in Colombia two years earlier. Pilot David Rodgers apparently only flew on one short trip in the Bell 203. The FAA recycles tail numbers and there is no indication that Epstein ever owned the copter.
The story was orginally published and retracted in 2016, but was recently republished (as in plagiarized) in an article on August 9, 2019 titled "U.S. State Department Tied To Child Trafficking Operation With Epstein" (archived here) which opened:
Evidence has emerged that the U.S. State Department is tied to a child trafficking operation involving Billionaire pedophile Jeffrey Epstein.
According to internet detectives, one of Epstein's aircraft which was linked to the trafficking of underage girls is actually owned and operated by the U.S. State Department.

Voat.co reports:
Billionaire Jeffrey Epstein, who has been accused of trafficking underage females shared the tail number of his Bell Long Ranger 206L3 helicopter (tail number N474AW) with a U.S. State Department OV-10D Bronco.
Users on social media only saw this title, description and thumbnail:
Alternative Media, Shadow Government, HAARP, MGO, Mind Control, Secret Space Programe, Gang Stalking
This article is a rip-off of a story published on December 31, 2016 by NewsPunch.com, but later retracted (archived here.) The NewsPunch publisher told Lead Stories he retracted the story because after more research he realized it "smelled fishy:"
We took it down as after closer inspection the facts didn't add up and the source of the claims smelled fishy
The fishy part, the publisher noted, was that the tail number only shows up once in the flight logs and it is unreliable since the FAA has a practice of reassigning tail numbers after an aircraft is taken out of service.
The flight log shows that Rodgers flew Epstein and three other passengers on his Gulfstream jet from a New Jersey airport to Santa Fe, New Mexico, on August 5, 2002. The others on board were Sarah Kellen (as indicated by the initials SK) and "2 females." Kellen was allegedly a sex slave "recruiter" for Epstein.The flight log did not list the names or ages of the "2 females." Epstein apparently stayed at his 8,000-acre New Mexico "Zorro Ranch" for 11 days. Epstein's next flight was on August 17, 2002, when Rodgers flew him and eight others from Santa Fe back to New Jersey. But Rodgers used his down time in New Mexico to get some practice landing and taking off in a small Cessna 172 and he also made one short flight in a Bell 203 helicopter, the flight log indicates.
An entry in Rodgers' flight log on August 6, 2002, said he flew from the Zorro Ranch to the Albuquerque, New Mexico in a Bell 203 helicopter with no passengers. The copter had the tail number N474AW at the time, according to the log. That number does not appear again anywhere in the several years of the Rodgers flight logs. Check them for yourself here. You will find the August 2002 entries at page 12:
Epstein Flight logs by Alan Duke on Scribd
The alleged connection between the State Department and Epstein's child sex trafficking is based on an FAA record that shows the government owned an airplane that carried the same tail number before it crashed on a mission in 2000. It was an OV-10 Bronco military attack and observation plane was retired after years of use by the Marine Corps, then handed over to the State Department and reportedly used by the CIA for drug interdiction missions in South America. Here is old video of several Broncos being used in Colombia:
The coincidence of a tail number on the attack plane and the civilian helicopter apparently used by Epstein's pilot for one training flight is not evidence that the U.S. State Department was "tied" to Epstein's child sex trafficking operation.
The Voat.co article linked to in the story is also offline and only available on archive.org.