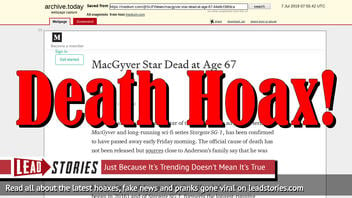 Did actor Richard Dean Anderson, most famous for his role as MacGiver, pass away? No, that's not true: an old April Fool's joke posted to Medium in 2017 seems to have gone viral again on Facebook even though the original article was long ago deleted.
The story originated from an article (archived here) where it was published by @SciFiNews on Medium on April 1, 2017 under the title "MacGyver Star Dead at Age 67". It opened:
ctor Richard Dean Anderson, star of the popular 80's adventure series MacGyver and long-running sci-fi series Stargate SG-1, has been confirmed to have passed away early Friday morning. The official cause of death has not been released but sources close to Anderson's family say that he was hospitalized late March 29th due to "breathing difficulties". Anderson was known to have been dealing with a spell of health problems for some time. He leaves behind his 11-year old daugher, Wylie Quinn. His death will be a huge loss for fans of the original MacGyver (for which a new revival series began in 2016) and of Stargate SG-1, formerly the longest-running American sci-fi series.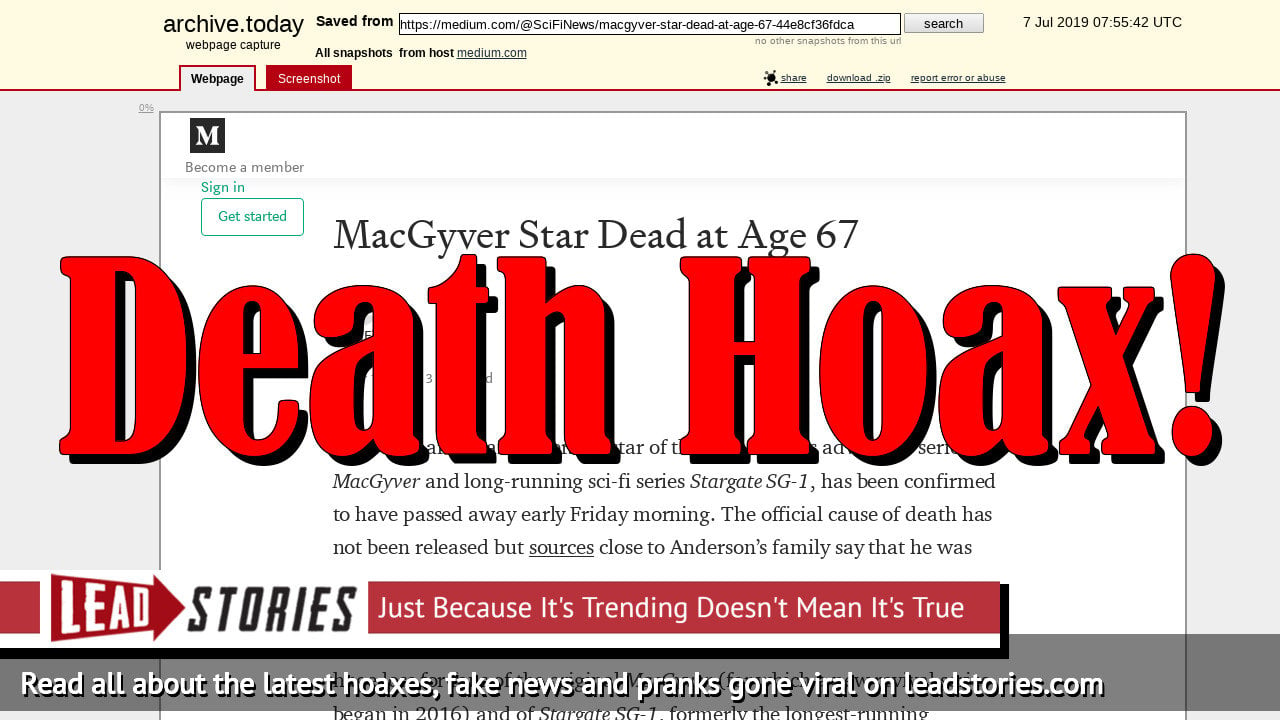 Visitors to the site today get following message:
410

This account is under investigation or was found in violation of the Medium Rules
That makes it impossible for them to read the last paragraph of the original article:
Are you still here? Thanks for reading this far but might we remind you it's April 1st, so.. d'oh! Only kidding, Richard Dean Anderson is perfectly alive and well, and we're pretty sure he could MacGyver off Death with a few paper clips and some gum.
However the link kept going viral on Facebook, prompting a reaction via a fan-run website on September 4, 2019 apparently in contact with the actor (archived here):
On Monday, a peculiar rumor began spreading through social media (as has been known to happen on the internet).
In this case the rumor had fans questioning whether Richard had suddenly passed away.
When Richard became aware of his "premature passing," he sent a quick response to set fans' minds at ease.
September 3, 2019

"Not dead yet~"

(Monty Python, 'Holy Grail,' circa 1970s)
The next day he followed up with a second message of reassurance.
September 4, 2019

"IT'S ALIVE!!!!!!"

Just had a brief bout with 24 hour death.

I'm better now.

Rick
In addition to that there have been no media reports about the actor passing away so it is safe to say this was just an unfunny April Fool's joke that came back from the dead.