STORY UPDATED: check for updates below.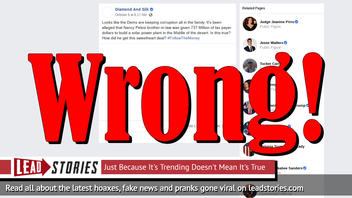 Was Nancy Pelosi's brother-in-law given $737 million of taxpayers' money to build a giant solar power plant in middle of the desert? No, that's not true: Ronald Pelosi served as a board member for an investment group that invested in a solar energy company that was given a federally-backed loan to build a solar power plant in Nevada, but it is false to say Pelosi was "given" taxpayers' money. Pelosi did not have ownership of the project. He was paid $25,000 a year to serve on the board of the investment group, which California corporate records show dissolved in 2012.
The story originated from a since-corrected 2011 DailyMail.com article that was republished by others without the corrections in 2019, It was more recently repeated in a post (archived here) published by Diamond And Silk on October 6, 2019. It read:
Looks like the Dems are keeping corruption all in the family. It's been alleged that Nancy Pelosi brother-in-law was given 737 Million of tax payer dollars to build a solar power plant in the Middle of the desert. Is this true? How did he get this sweetheart deal? #FollowTheMoney
This is what social media users saw:
The false claim has been turned into a meme that is also widely shared:
Neonnettle.com revived the false story on February 10, 2019, basing it on the retracted 2011 DailyMail.com report. You can choose from three debunk articles -- from FactCheck.org, Snopes.com and The San Francisco Chronicle -- to see what's wrong with those stories. Neonnettle.com revised their story in response to Lead Stories' debunk article.
This is the correction notice added by the DailyMail to its story:
UPDATE: This article has been amended since first publication to remove allegations that Nancy Pelosi's brother-in-law was given $737m of taxpayers' money. We are happy to clarify that the money was in the form of a loan guarantee from the U.S. Department of Energy, and that Mr Pelosi did not have a personal financial stake in the outcome.
2019-10-10T19:53:54Z

2019-10-10T19:53:54Z

Update October 10, 2019: Neonnettle.com corrects its story.