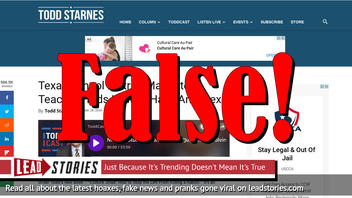 Does a Texas school district mandate teaching kids how to have anal sex? No, that's not true: When the Austin Independent School District's board approved an update of its sex education curriculum on October 29, 2019, it gave every parent the power to opt their children out of any or all of the classes, which did not include any lessons on how to have anal sex.
The story originated from an article (archived here) where it was published by ToddStarnes.com on October 29, 2019 under the title "Texas School District Mandates Teaching Kids How to Have Anal Sex". It opened:
The sex and gender revolutionaries have officially taken over the Austin Independent School District without firing a single shot.

In spite of overwhelming opposition from parents and pastors, the district's trustees voted early Tuesday morning to implement a pornographic sex education policy that includes instruction on anal sex and how to place a condom on an erect penis.
This is what social media users saw:
The article also read:
The father of a fifth grader demanded to know who gave the school district the right to teach his child how to have anal and oral sex.

"Who gave you the right, Austin ISD? You have overstepped," the rightfully frustrated dad said.

The radical sex education policy will provide graphic instruction on gender identity and mandated support of the LGBT movement.

Students in grade school and middle school will also be taught how to get an abortion or obtain birth control pills without parental permission or consent.

The school district will also begin instructing students to no longer use words like "mother" or "father."
It was a very controversial process when Austin, Texas, school officials considered updated its decade-old sex ed curriculum in 2019. Angry parents protested, mostly on the side opposed to expanded sex ed lessons. The resulting curriculum "will teach elementary students about sexual orientation, gender identity and sexually transmitted diseases," according to the Austin Statesman newspaper. "Under the new curriculum, educators will also teach lessons on healthy relationships, puberty, pregnancy and reproduction. Parents may opt their children out of one, multiple or all the lessons."
There was no "mandate" and no "anal sex" lessons, a district spokesman said in an email to Lead Stories:
No, the curriculum refers to how anal sex as a way to transmit STIs. Lessons are posted on the Health Education website.
The school district made it easy for parents to keep their children out of any or all of the classes by completing a letter provided on the website that also provides the details of the Human Sexuality and Responsibility (HSR) education program. A review of the materials does not indicate any anal sex lessons, although 5th graders would be taught how to identify body parts including an anus.
NewsGuard, a company that uses trained journalist to rank the reliability of websites, describes toddstarnes.com as:
A website publishing conservative opinion pieces from Fox News Radio commentator and syndicated columnist Todd Starnes, as well as others with similar beliefs. The site does not disclose information about its political orientation.
According to NewsGuard the site can generally be trusted to maintain journalistic standards. Read their full assessment here.
We wrote about toddstarnes.com before, here are our most recent articles that mention the site: