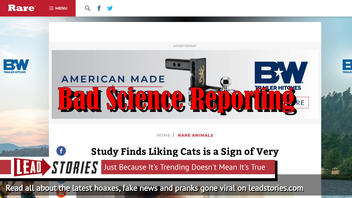 Did a study find liking cats is a sign of very high intelligence? No, that's not true: the study the article (and several like it) was based on compared self-described "cat people" with "dog people" in a study of university students and compared their personality traits. One of these traits was "reasoning" and on this measure the "cat people" had a higher mean score than the "dog people". That does not mean liking cats is a sign of very high intelligence or even that cat lovers are more intelligent than other people in general. The study did not compare "cat people" (or "dog people") with the general population so it is impossible to draw conclusions like this from the study.
The story recently went viral via an article (archived here) published by Rare on November 6, 2019 under the title "Study Finds Liking Cats is a Sign of Very High Intelligence". It opened:
A Wisconsin University is attempting to further tear apart the integrity of humanity with a new study about "cat people" and "dog people" and their differences and essentially who is better. Queue the "what color is the dress" argument circa 2015, or the chicken versus the egg question.

Here's what happened, first the study eliminated anybody from the original group of 600 who believed themselves to be an equal lover of both cats and dogs. This study took the remaining 418 people from both groups and surveyed them on multiple factors and personality traits. The pet owners were asked questions like what they enjoyed most about their pets. Essentially, the cat lovers said attention, and dog lovers said companionship.

The results of the study found that dog lovers were often more extroverted than cat lovers. Dog owners were seen as more outgoing, livelier and energetic (sounds like the description of a dog, but ok.) While cat owners were seen as introverted and more sensitive. Somehow the conclusion was drawn that dog lovers were more likely to follow rules and cat people were the non-conformists.
The article referenced a story at Buzz on the World as its source:
Pets are an absolute blessing for humans. They can cheer you up when you're feeling sad or come home tired from work. It happens to everyone, but then you open the door and meet that little ball of fur that just emanates love and happiness. Animals are more intelligent than we think.
It further backs it up with a quote from Denise Guastello:
Denise Guastello, a psychology professor at Carroll University in Waukesha, Wisconsin seconds these findings and states that, "It makes sense that a dog person is going to be more lively, because they're going to want to be out there, outside, talking to people, bringing their dog, whereas, if you're more introverted and sensitive, maybe you're more at home reading a book, and your cat doesn't need to go outside for a walk."
But the Buzz of the World article is actually based on the study on which Guastello is a co-author:
Andrea D. Guastello, Denise D. Guastello, & Stephen J. Guastello University of Florida, Carroll University, & Marquette University Understanding the relationship between human personality and preferences for pet species is important for bettering human-animal relationships, supporting animal welfare, and supporting pet therapy.
And the Buzz on the World story also gets the conclusions of the story wrong in the headline. From the summary of the study:
Participants were 418 undergraduates who completed the Sixteen Personality Factors Questionnaire (16PF) and a Pet Survey that classified them as dog or cat people. The 16PF contains 15 narrowly defined primary personality traits, a brief measure of general intelligence, and 5 global factors that are comparable in meaning to those of the Five Factor Model. The principal differences were that the 352 dog people scored higher on warmth, liveliness, rule consciousness, and social boldness compared to the 66 cat people. The latter scored higher on general intelligence, abstractedness, and self-reliance.
And from the full paper:
Methods
Participants
The 600 participants in the study
were undergraduate students who were
enrolled in psychology courses at a small,
private, Midwestern US University. The
sample was 25.8% male and 74.2%
female.
and further down:
The responses from the Pet Survey
were analyzed to assess whether
participants were cat people or dog
people. On the Pet Survey participants
were asked to rate on a scale from 1
(strongly disagree) to 5 (strongly agree)
the amount that they agreed with the
PERSONALITY OF DOG AND CAT PEOPLE
47 | HAIB
statements: "I am a cat person," and "I am
a dog person." People who ranked
themselves as a 4 (agree) or 5 (strongly
agree) for either "I am a cat person" (N =
352) or "I am a dog person" (N = 66) were
classified in the corresponding category
for subsequent analyses. People who
rated themselves as a 4 or 5 for both
questions were classified as "both" (N =
140) and were eliminated from
subsequent analyses because the overlap
between dog people and cat people could
obscure differences between the two
primary groups. Participants who ranked
themselves as 1 (strongly disagree),
2 (disagree), or 3 (neutral) for both
questions were classified as "neither" (N
= 42) and were eliminated from
subsequent analyses. A total of 418
participants were retained in the
subsequent analysis: 84.2% of whom
self-identified as dog people, and 15.8%
of whom self-identified as cat people.
In other words, the test was just run on students at one university and the people who did not particularily like cats or dogs were excluded from the comparison. That means you can't draw any conclusion from it that compares cat or dog people to the general population as the study did not even look at that. The study also did not find that liking cats was associated with "very high" intelligence.
NewsGuard, a company that uses trained journalist to rank the reliability of websites, describes rare.us as:
A former conservative website that now publishes trending and odd news, describing itself as "America's News Feed."
According to NewsGuard the site can generally be trusted to maintain journalistic standards. Read their full assessment here.
We wrote about rare.us before, here are our most recent articles that mention the site: