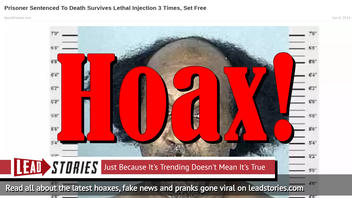 Did a prisoner on death row survive three attempts at lethal injection and was subsequently set free? No, that's not true: It is a hoax story made up by a known fake news website, but copied and republished by other websites as the truth. There was no such case. Igor Hamilton is not the name of a real death row inmate. No condemned prisoner was released because of the failure of a lethal injection to end his life.
The story originated in a Huzler.com article on July 12, 2019, and was more recently republished an article (archived here) on a copycat site published on November 9, 2019 under the title "Prisoner Sentenced To Death Survives Lethal Injection 3 Times, Set Free". It read:
A Prisoner on death-row, Igor Hamilton will set free after he survived three lethal injections.

The inmates attorney, Edward Morningwood,stated his client had done his time including the lethal injection required by the state.

The lethal injection was supposed to be a quick death, but Igor survived.

It's just not his time to go argues his attorney. Igor Hamilton hoped the lethal injection would succeed and end his suffering within the prison, but he survived and is excited about his second chance at life.

Hamilton, who was sentenced to death in 1997 for killing his neighbor's cats, said the needle wasn't even painful.

While incarcerated he claims to have found God and spoked to him in prayers, God assured him he would survive "Because cats have no soul." he never really committed a crime.

He is set to be released by the end of the month and awarded $250,000.
This is what social media users saw:
The original Huzlers.com article did not carry a satire label, although the headline was suspicious since it claimed Hamilton had been sentenced to death for killing cats. While animal cruelty can be a felony crime, no government imposes a death penalty for it. None of these stories qualify as satire under the Lead Stories satire policy because of the lack of a clear label.