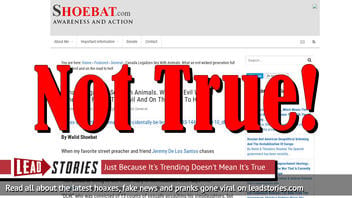 Did Canada legalize sex with animals? No, that's not true: Ever since a Canadian Supreme Court decision in 2016, articles have been shared claiming Canada had legalized bestiality. The case involved a man who was convicted of sexual offenses against his two stepdaughters, including one count of bestiality - a ruling later overturned because no penetration was involved. Still, sex with animals was never legalized.
The claim originated from an article (archived here) where it was published by Shoebat.com on June 10, 2016, under the title "Canada Legalizes Sex With Animals. What An Evil Wicked Generation Full Of The Devil And On The Road To Hell." It opened:
When my favorite street preacher and friend Jeremy De Los Santos chases reprobates he usually yells at them saying "what an evil wicked generation full of the devil and on the road to hell!"

This should be fitting as one reads many of the headlines these days. The Independent reported that the case involved a British Columbia man, identified as "DLW," who was convicted of 13 counts of sexually assaulting his stepdaughters, but was acquitted of bestiality -- because he "only" forced dogs into oral sex, without penetration being involved. The man "smeared peanut butter on the genitals of his victims and had the family dog lick it off while he videotaped the act."

As a result of this story, the case for allowing bestiality came up and instead of doing what is right Canada's Supreme Court instead legalized having sex between people and animals as long as "no penetration is involved".
The story was shared on social media and debunked by AFP in 2018 as well as Truth or Fiction in 2019. Even so, the original story - and one by Breitbart in 2016 - are still circulating online.
According to AFP, the man had used peanut butter to entice his dog to lick his stepdaughter's genitals. In a 6-1 ruling, the judges overturned the count of bestiality because no penetration was involved. The Supreme Court ruling did not legalize bestiality but defined what did not constitute the sex act.
Then, on June 18, 2019, the Canadian Senate closed the loophole. According to news reports, the new law defined bestiality as "any contact, for a sexual purpose, with an animal." Furthermore, anyone convicted of bestiality would be listed on the country's sex offender registry.
The author of the original post, Walid Shoebat, claims on his site to be a former Islamic terrorist who has converted to Christianity. However, in an investigation in 2011, CNN correspondent Drew Griffin found no evidence to support such a claim. MediaBias/Fact Check labels Shoebat's site as a purveyor of conspiracy theories and pseudoscience.