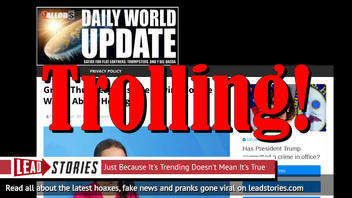 Has climate youth activist Greta Thunberg been lying about her age? No, that's not true: Greta is not actually 27 years old. The claim was first published by a liberal satire website that tries to mislead Trump supporters into sharing made up stories that are clearly marked as satire. Foreign-run fake news websites frequently copy articles from the site. The people liking and sharing these stories are enriching foreign website operators or a liberal from Maine via the ad revenue generated with the content, which is probably not what they expected or wanted.
The story originated from an article published by Daily World Update on December 13, 2019 titled "Greta Thunberg Has Been Lying To The World About Her Age" (archived here) which opened:
Greta Thunberg has been lying to everyone. Part of her little show is being a "teenage activist." DWU has learned through public record searches and unverifiable sources that the young girl isn't actually a young girl at all.

We first went to her hometown of Bjork, Sweden, and looked up the hospital listed on her birth certificate. Come to find out, that hospital closed nearly 25 years ago. If she was born there, she isn't 16.
Users on social media only saw this title, description and thumbnail:
She's not the child she pretends to be.
The story on Daily World Update is untrue and is clearly marked as satire. According to multiple reports, Greta is 16 years old and was born on January 3, 2003. The teenager has become a prominent voice in the youth climate movement and was recently named Time magazine's person of the year for 2019. She is the youngest person to receive such a recognition.
NewsGuard, a company that uses trained journalists to rank the reliability of websites, describes dailyworldupdate.us as:
A news site that publishes false stories and hoaxes that are often mistaken for real news. The site is part of a network run by hoax perpetrator Christopher Blair.
According to NewsGuard, the site does not maintain basic standards of accuracy and accountability. Read their full assessment here.
We wrote about dailyworldupdate.us before; here are our most recent articles that mention the site: