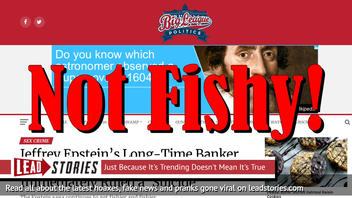 Did the Jeffrey Epstein saga get fishier and fishier with the hanging death of a banker? No, that's not true: Thomas Bowers, who worked at two large banks over recent decades, committed suicide by hanging at his Malibu, California, home on November 19, 2019, according to the Los Angeles County coroner's office. His suicide has not "caused speculation" about his "real cause of death," except for stories arising from questionable websites known to promote unsourced conspiracy rumors. The only named source in the original report is the publisher one of the stories, and his claim to have personal knowledge of Epstein's banking relationships is in question.
While Bowers' work as the head of Deutsche Bank's American wealth management division has been part of a federal investigation, it was concerning his approval of loans for President Donald Trump, not relating to deceased sex offender Jeffrey Epstein. The bank acknowledged it was conducting an internal investigation of its dealings with Epstein, but Bowers, who left Deutsche Bank in 2013, was not himself under investigation.
The claim originated in a TruePundit.com article and was soon repeated in several stories, including an article published by Big League Politics on December 3, 2019 titled "Jeffrey Epstein's Long-Time Banker Found Dead From Hanging, Immediately Ruled a 'Suicide'" (archived here) which opened:
The Epstein saga continues to get fishier and fishier.

Corporate banker Thomas Bowers, who ran the U.S. division of private wealth management for Deutsche Bank AG, reportedly committed suicide last month at the age of 55 by hanging himself with a rope in his California residence.

However, his extensive ties to deceased sex trafficker Jeffrey Epstein - who also died from a mysterious suicide - has caused speculation about what the real cause of Bowers' death may be.
Users on social media only saw this title, description and thumbnail:
The Epstein saga continues to get fishier and fishier.
The jail cell suicide of Jeffrey Epstein on August 10, 2019, triggered several conspiracy rumors based on the suspicion that powerful people were using murder to stop revelations about the Epstein's alleged sex trafficking operation. A new rumor was launched a week after banker Thomas Bowers was found dead in his home. Two websites -- TruePundit.com and BigLeaguePolitics.com -- published stories claiming that Bowers had a close relationship with Epstein while he worked at Deutsche Bank and Citigroup.
The Big League Politics story, which parroted the True Pundit article, noted that Epstein opened several accounts with Deutsche Bank after another bank distanced itself from him in 2013:
Epstein moved millions of his personal wealth through Deutsche Bank before his death. He switched to Deutsche Bank in 2013 after his conviction for child sex crimes when even JP Morgan would no longer do business with him. Following investigations into civil cases exposing the extent of Epstein's criminal network by the Miami Herald, Deutsche Bank finally began to close his accounts. "Deutsche Bank is closely examining any business relationship with Jeffrey Epstein, and we are absolutely committed to cooperating with all relevant authorities," a spokesperson for the bank said.
The bank spokesperson quote was lifted from a Bloomberg.com story from July 23, 2019. Bloomberg made no mention of Bowers or an FBI probe of his purported dealings with Epstein. The stories, however, attempted to create a false narative that Bowers had information about Epstein's sex trafficking and that he died "before the FBI questioned him."
Did Bowers have "extensive ties" to Epstein as claimed? Lead Stories has been unable to find a detailed resume' for the banker, but we did find references to Bowers leaving Deutsche Bank in 2013 and also 2015. If Epstein moved his money to Deutsche Bank accounts in 2013, then Bowers would not have been there through much of Epstein's relationship with the bank. Epstein had lost most of his high-powered friends well before 2013. Former President Bill Clinton and future President Donald Trump cut ties with Epstein before the Florida sex investigation began in 2005. Britain's Prince Andrew stopped socializing with Epstein in 2010.
Both the Big League Politics and True Pundit articles, however, claim that Bowers and Epstein became banking buddies years before when Bowers work for Citigroup and approved big loans for Epstein. Big League reported:
Former bank executive Mike Moore, who led a Citigroup division's anti-money laundering unit during a time when Citi was in bed with Epstein, commented on the nature of Epstein's loans with the corporate lender.

"The loans to Epstein were personal and commercial," Moore said. "The Citi loans I can confirm were for more than $25 million. Some were secured, some were not."

According to sources that spoke with True Pundit, Epstein received similar loans from both Citigroup and Deutsche Bank, and it is not a coincidence that Bowers worked in the same role for both banks when Epstein was doing business with them. Bowers was chief of The Citi Private Bank, and led Citigroup's Global Markets and Wealth Management businesses before he made his way to Deutsche Bank.
Turns out "former bank executive Mike Moore" is the founder of TruePundit.com, where he uses the alias "Thomas Paine." In other words, Moore was the source for Paine's story, but they are the same human. Moore/Paine's approach to journalism has been closely examined by Buzzfeed reporter Craig Silverman for an August 27, 2018 story titled "Revealed: Notorious Pro-Trump Misinformation Site True Pundit Is Run By An Ex-Journalist With A Grudge Against The FBI":
Paine combines the use of a pseudonym with almost exclusive use of anonymous sources to establish the persona of a deeply connected reporter with a vast network of FBI, law enforcement, and government sources. As with the Page story, he adds false or conspiracy-filled claims to real events or documents in order to create the impression of being rooted in fact.
Silverman's report also revealed that Moore/Paine has a recent criminal record:
He was arrested by federal agents in November 2011 for running two websites that sold pirated hockey DVDs and downloads. Months earlier, FBI agents executed a search warrant on his home and carted off the equipment he used to pirate hockey games and other content.

Moore pleaded guilty to one count of copyright infringement in June 2013. He was sentenced to time served of one day in prison, a year of house arrest, and three years of supervised release. During his release he had to provide monthly income statements and facilitate the "investigation of his financial dealings," according to a sentencing document filed on June 17, 2013.
Silverman confirmed that Moore/Paine worked in the past as a journalist, but he could find no evidence he was "a former banker" with CitiGroup. He challenged Moore/Paine in a tweet to explain why Citigroup said he never worked for them:
Hey Mike, you claim to have worked for Citi "running its anti-money laundering Ops in three states." A spokesperson told me they have no record of employing anyone with your name in anti-money laundering operations, or otherwise. Can you explain?
Hey Mike, you claim to have worked for Citi "running its anti-money laundering Ops in three states." A spokesperson told me they have no record of employing anyone with your name in anti-money laundering operations, or otherwise. Can you explain? https://t.co/mveU1GloPT

-- Craig Silverman (@CraigSilverman) September 4, 2018
Another look at who is Moore/Paine can be read at https://whoistruepundit.com/.
Aside from Moore/Paine's validity as a source for what kind of business Epstein did with Citigroup, there are credible reports that the banking relationship was short and sour. The Wall Street Journal, in an August 28, 2019 article titled "Jeffrey Epstein's Road Through Wall Street Was a Bumpy One", that Epstein used JP Morgan for most of his money matters prior to moving to Deutsche Bank:
From the 1990s through about 2013, Mr. Epstein had a relationship with JPMorgan, one that proved lucrative for the bank. The Wall Street Journal previously reported that JPMorgan gained a stream of private-banking clients and referrals from Mr. Epstein. The bank ended the relationship in the midst of concern about its reputation, the Journal reported, years after a 2007 nonprosecution agreement with the government related to a Florida sexual-misconduct investigation into Mr. Epstein.
The WSJ reported that Epstein did take out two $10 million loans from Citigroup in 1999, which he defaulted on, leading to lawsuits:
By 2002, the investments were in trouble. Mr. Epstein defaulted on both loans, even after Citigroup extended their repayment deadlines, the bank later claimed. Mr. Epstein filed a lawsuit in District Court of the Virgin Islands claiming Citigroup had defrauded him and misrepresented information related to the investments, which he said had been made on the recommendation of Ms. Davison, who "aggressively solicited my participation." Through a spokeswoman, Ms. Davison declined to comment.

Citigroup filed its own suit in the Southern District of New York for repayment of the loans. Both parties dropped their suits in 2005. Mr. Epstein's relationship with Citigroup was severed in 2006, according to people close to the matter, around the time Mr. Wexner stopped working with Citigroup, the people say. A spokesman for Mr. Wexner declined to comment.

"Mr. Epstein was a client for a short period of time, before his abhorrent behavior came to light," a Citigroup spokeswoman said.
There is no indication that Bowers was close to Epstein during that "short period of time" or that their friendship survived the lawsuits. True Pundit claims an unnamed "banking executive" said Bowers visited Epstein's private island but his name did not appear on any of the flight logs carrying passengers there. It also said Bowers had "an active night life and enjoyed the party circuit," but that does not serve as evidence he did so with Epstein.
The Big League story ends with this claim:
Anything that Bowers may have been able to divulge about Epstein's network died with him. Loose ends are being tied up, and the powerful individuals who Epstein provided with illicit child sex services have to be breathing a sigh of relief as a result.
There is another high-profile banking relationship involving Bowers that the FBI and Congress are probing: President Donald Trump. For more on that, read the London's Metro newspaper report titled "Banker who signed off Trump loans found dead after killing himself".
NewsGuard, a company that uses trained journalist to rank the reliability of websites, describes bigleaguepolitics.com as:
A conservative political site owned by a political consultant that has published false and misleading headlines and stories and that does not correct errors.
According to NewsGuard the site does not maintain basic standards of accuracy and accountability. Read their full assessment here.
We wrote about bigleaguepolitics.com before, here are our most recent articles that mention the site: