STORY UPDATED: check for updates below.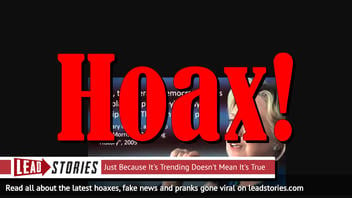 Did Hillary Clinton say Democratic voters are stupid and easy to manipulate? No, that's not true: the claim, which originally went viral in 2015, has resurfaced and implies Clinton said those words in an interview with Dick Morris for his book, "Rewriting History". The image can be traced back to a Tumblr page that posted falsified Clinton quotes. The image has since circulated on Twitter, Pinterest and elsewhere.
The image was found in a tweet (archived here) where it was published by former Milwaukee County Sheriff David Alexander Clarke Jr. on December 30, 2017. The text surrounding the photo reads:
"Look, the average Democrat voter is just plain stupid. They're easy to manipulate. That's the easy part." - Hillary Clinton, as told to Dick Morris in "Rewriting History," 2005.
Clarke served as sheriff of the Wisconsin county for 15 years, from 2002 until 2017. Elected as a Democrat to the office, Clarke's political views mirror more conservative thinkers and politicians, according to his website. In addition to appearing on FOX News as a commentator, the former sheriff spoke at the 2016 Republican National Convention that selected now-President Trump as the nominee against Clinton in the general election.
Clarke's tweet follows:
LYING Lib media spreads FAKE NEWS about me and @realDonaldTrump to fool their liberal followers into believing LIES because as Mrs. Bill Clinton once said,
"Look, the average DEMOCRAT VOTER is just plain STUPID. They're easy to manipulate."
Classic! pic.twitter.com/8n5tIZKOcI

-- David A. Clarke, Jr. (@SheriffClarke) December 30, 2017
The claim against Clinton was also debunked as false by Snopes and several other fact-checking sites in the same year it first went viral.
Morris did, however, write the book, "Rewriting History". But it was published in 2004, years before the false claim went viral, and it explored various aspects of Clinton's personal and political life. Morris was former President Bill Clinton's political consultant for nearly two decades, as well as a commentator for Fox News and other networks.
Additionally, the Tumblr page, which still hosts an early version of the image, says in its description to readers: "get to know the clinical Sociopath known as Hillary Clinton" and encourages visitors of the page to vote for Donald Trump in 2020.
2019-12-27T10:55:21Z

2019-12-27T10:55:21Z

We corrected the nominating convention for President Trump to the Republican National Convention.