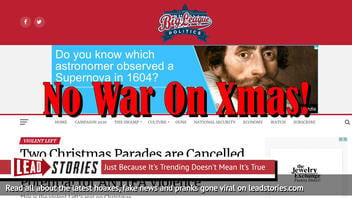 Were two Christmas parades in North Carolina cancelled because of the potential of ANTIFA Violence? No, that's not true: There is no known Antifa connection to the decision by officials in Wake Forest and Gardner, North Carolina, to cancel their parades. The said their safety concerns centered on those protesting the inclusion of a contingent of Sons of the Confederacy carrying rebel flags in each parade and those who might show up to protest in support of the Confederate tributes.
There have been scuffles about 40 miles away from these towns between supporters of Confederate tributes and students at the University of North Carolina, Chapel Hill, protesting against a Confederate statue on their campus. The students have been protesting against racism, not against fascism. Antifa is a word used to described those protesting fascism. There is also no evidence that the parade cancellation is related to a "war on Christmas."
The story originated from an article published by Big League Politics on December 7, 2019 titled "Two Christmas Parades are Cancelled in North Carolina Because of Potential for ANTIFA Violence" (archived here) which opened:
This is the violent Left's war on Christmas.

Christmas parades have been cancelled in two North Carolina towns after threats of protests by ANTIFA-style leftists have caused the cities to back down.
Users on social media only saw this title, description and thumbnail:
This is the violent Left's war on Christmas.
Yes, two Christmas parades were cancelled in North Carolina towns in December 2019, but it was not because of the "violent Left's war on Christmas." City officials in Wake Forest and Gardner, North Carolina, said they cancelled the holiday parades out of concern that police could not control potential clashes between between pro-Confederate groups and anti-racists groups along the parade routes.
Big League Politics reported this:
The anger stemmed from the participation of the Sons and Daughters of the Confederacy in the protest. This caused ANTIFA-style thugs to form a social media witch hunt against the parades, which eventually resulted in their cancellation. The digital lynch mob wins again.
Wake Forest's police chief did say he was concerned about "outside agitators," but he could name no threats from any specific group. None of the officials indicated if their concern was for violence from the right or the left. There was no indication that an Antifa protest was planned. This is part of the announcement from the town of Wake Forest:
Earlier today, during its regular monthly meeting, the Wake Forest Downtown (WFD), Inc. Board of Directors voted to cancel this year's parade due to the potential for violence. Moments earlier, board members heard from Wake Forest Police officials who reported receiving credible information in recent days that growing numbers of outside groups plan to attend the parade to either support or oppose the Sons & Daughters of the Confederacy.
According to Wake Forest Police Chief Jeff Leonard, only one group has notified the Town of its plans to protest, but the department is concerned about outside agitators that show up, wreak havoc then leave.
"Groups that contact us about their plans to protest tend to follow our rules and regulations," said Leonard. "We're concerned about outside agitators that don't notify us. Radicals don't typically call ahead. These aren't area residents we're talking about. These are professional protesters who have no regard for the safety and well-being of others."
Wake Forest spokesman Bill Crabtree in an email reply to Lead Stories said his city's decision was not based on a "specific" threat:
"We received no specific threats; however, we did receive credible information that large numbers of people on both sides of the issue were planning to descend on Wake Forest on the day of the parade. The potential for violence and the potential threat to public safety were the reasons for the cancellation."
Ummm. Yeah. About that. pic.twitter.com/zqGJo8zGAD

-- Shawn Breen (@TTOJAF) December 8, 2019
The "Move Silent Sam" group of UNC students -- named such because the statue's name was "Silent Sam" -- tweeted that the Big League Politics story was equating flying a white supremicist flag in a Christmas parade with "American cultural traditions>":
The usual nonsense from Big League Politics.

"The Left will crush all American cultural traditions unless they are soundly defeated."

Which American cultural traditions are we talking about?

Allowing Confederates to march in the Christmas parade with white supremacist flags? pic.twitter.com/lMfSgLGnQ4

-- Move Silent Sam (@Move_Silent_Sam) December 8, 2019
The towns said they could not ban the Confederate groups from the parade because of constitutional concerns.
NewsGuard, a company that uses trained journalist to rank the reliability of websites, describes bigleaguepolitics.com as:
A conservative political site owned by a political consultant that has published false and misleading headlines and stories and that does not correct errors.
According to NewsGuard the site does not maintain basic standards of accuracy and accountability. Read their full assessment here.
We wrote about bigleaguepolitics.com before, here are our most recent articles that mention the site: