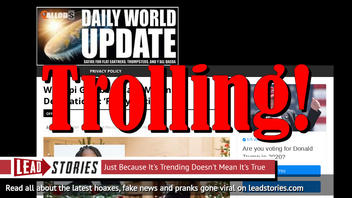 Did Whoopi Goldberg call First Lady Melania Trump's White House Christmas decorations "fairly racist"? No, that's not true: The co-host of the morning talk show, "The View," did not make such a statement. The claim was first published by a liberal satire website that tries to mislead Trump supporters into sharing made up stories that are clearly marked as satire. Foreign-run fake news websites frequently copy articles from the site. The people liking and sharing these stories are enriching foreign website operators or a liberal from Maine via the ad revenue generated with the content, which is probably not what they expected or wanted.
The story originated from an article published by Daily World Update on December 6, 2019, titled "Whoopi Goldberg Calls Melania's Decorations : 'Fairly Racist'" (archived here) which opened:
As one of morning television's most popular programs, "The View" and it's all-female hosting staff have been known to be outspoken and controversial. Adding to that reputation during a taping to be aired next Monday, host and space bartender Whoopi Goldberg opined after viewing photos of First Lady Melania Trump's Christmas decorations in the White House this year, that Mrs. Trump: "Decorates totally for white people."
Users on social media only saw this title, description and thumbnail:
They'll just pick on anything, won't they?
Goldberg never made such a statement, and the story is clearly marked as satire and fan fiction. Other sites have picked up the story and published it to gain traction without noting the story's satirical nature.
NewsGuard, a company that uses trained journalists to rank the reliability of websites, describes dailyworldupdate.us as:
A news site that publishes false stories and hoaxes that are often mistaken for real news. The site is part of a network run by hoax perpetrator Christopher Blair.
According to NewsGuard, the site does not maintain basic standards of accuracy and accountability. Read their full assessment here.
We wrote about dailyworldupdate.us before; here are our most recent articles that mention the site: