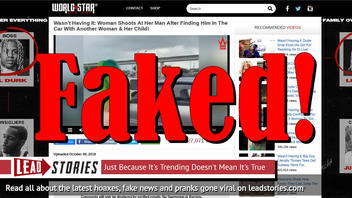 Did a woman shoot at her man after finding him in a car with another woman and her son? No, that's not true: The green-haired woman in a video-gone-viral admitted that she faked the incident in which she pretended to shoot her boyfriend and then grab her son out of the car. The Florida woman, who performs as online actress under the name "Smiley," made the admission after police threatened to take her son away from her unless she proved she had not killed her "boyfriend," according to DailyMail.com.
The claim originated from a video (archived here) posted on on worldstarhiphop.com on October 6, 2018, under the title "Wasn't Having It: Woman Shoots At Her Man After Finding Him In The Car With Another Woman & Her Child! ". It opened:
video making the rounds on social media showing a South Florida woman firing a gun into a car and walking away with a child is now being investigated by Miami-Dade police.
This is the video:
The video got nearly 3 million views before Miami-Dade police caught up with the woman. DailyMail.com reported:
'It's under investigation,' MDPD spokesman Chris Thomas told the Miami Herald last week. 'We're try to find out if it's legitimate or not. We don't know.'

By Friday afternoon, Smiley showed up to the police station - but with a red wig -to prove she did not really shoot the man in the video.

In a now-deleted Instagram post she claimed the police were threatening to take her son away if she did not prove her 'boyfriend' in the video was alive.

'It's called motherf****** acting. Thank you, I know I'm good at it,' she said in the video.
NewsGuard, a company that uses trained journalist to rank the reliability of websites, describes worldstarhiphop.com as:
A video blog centered on urban violence, featuring street fights, public sex acts, music videos, and other sometimes grotesque content targeting young audiences.
According to NewsGuard the site does not maintain basic standards of accuracy and accountability. Read their full assessment here.
We wrote about worldstarhiphop.com before, here are our most recent articles that mention the site: