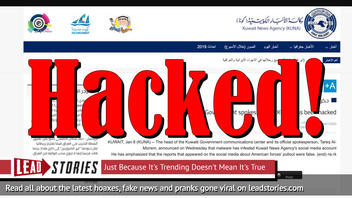 Are U.S. troops withdrawing from Kuwait? No, that's not true. The news of the withdrawal was first reported via Twitter from Kuwait's official news agency, KUNA, which quickly retracted the claim and said it had been hacked.
The report originated from a now deleted tweet from KUNA's Twitter account on January 8, 2020. The agency quickly zapped the tweet and reported it had been hacked.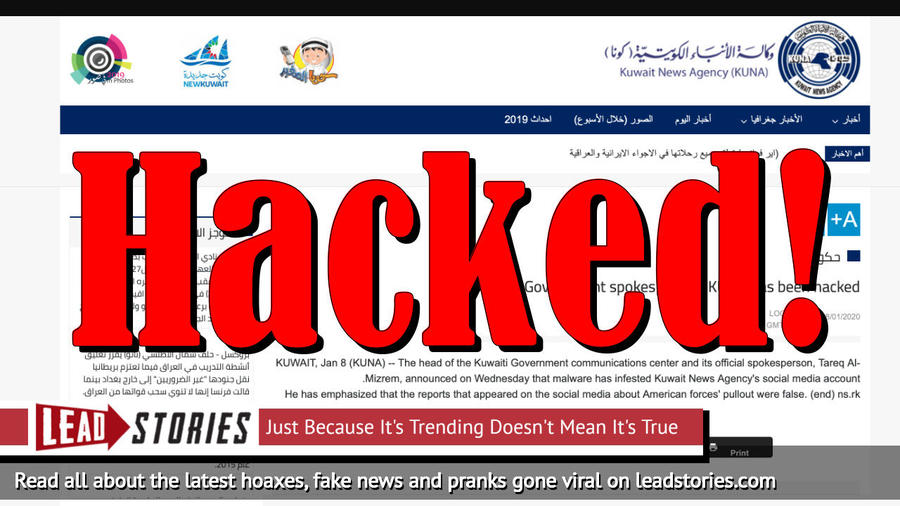 This is what some social media users saw in a tweet from Reuters reporter Maher Chmaytelli:
RTRS BREAKING NEWS - KUWAIT DEFENSE MINISTER SAYS RECEIVED OFFICIAL LETTER FROM COMMANDER OF CAMP ARIFJAN IN KUWAIT DECLARING IMMINENT WITHDRAWAL OF ALL U.S. FORCES IN 3 DAYS - KUWAIT NEWS AGENCY -KUNA

-- Maher Chmaytelli (@MaherChmaytelli) January 8, 2020
Within a half hour, Chmaytelli sent out this tweet to correct the record:
KUWAIT GOVT SAYS REPORT OF US TROOP WITHDRAWAL IS INCORRECT, KUWAIT NEWS AGENCY WAS HACKED - KUWAIT GOVT COMMUNICATION OFFICE - RTRS

-- Maher Chmaytelli (@MaherChmaytelli) January 8, 2020
This is KUNA's statement in full:
KUWAIT, Jan 8 (KUNA) -- The head of the Kuwaiti Government communications center and its official spokesperson, Tareq Al-Mizrem, announced on Wednesday that malware has infested Kuwait News Agency's social media account.

He has emphasized that the reports that appeared on the social media about American forces' pullout were false. (end)
This is a screenshot of the tweet: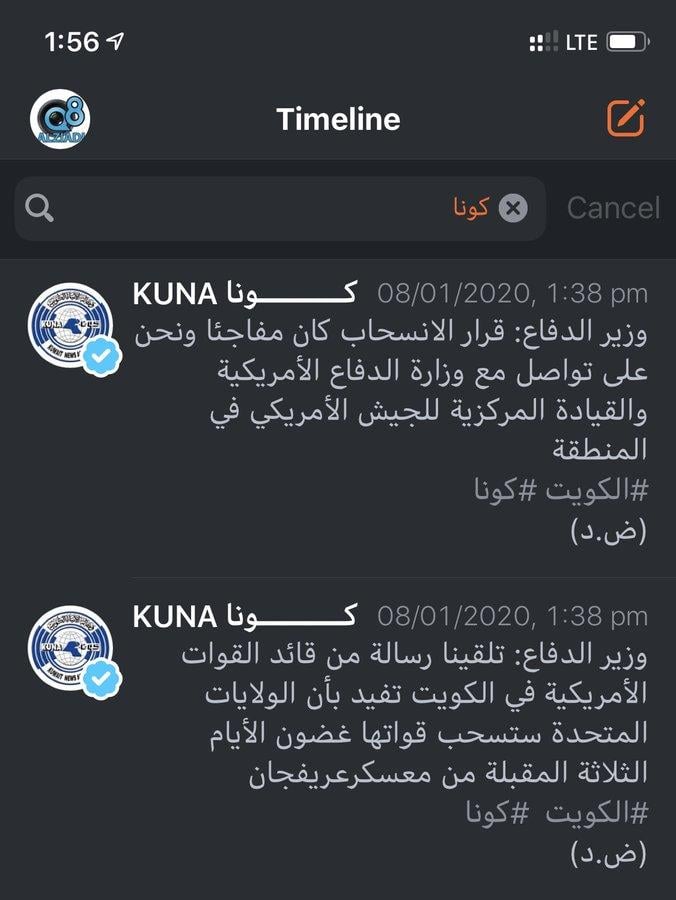 In its clarification, KUNA said it had not been notified by the U.S. that its troops were withdrawing and reiterated that the hacked tweet was false.
More than 13,000 U.S. troops are said to be stationed at bases in Kuwait, with more on the way.
With tensions mounting between the United States and Iran, experts have warned of the likelihood of cyberattacks by Tehran against U.S. interests and its allies. It was not immediately clear if the KUNA hack was part of such an orchestrated cyberwarfare campaign.
The hack came less than 24 hours after the January 7, 2020, Iraninan launch of more than 20 ballistic missiles at two U.S. bases inside Iraq. Tehran said the missile strikes were in retaliation to the killing of Maj. Gen. Qassem Soleimani, a leader of the Revolutionary Guards Corps.
The United States has said none of its troops were killed in the attack.