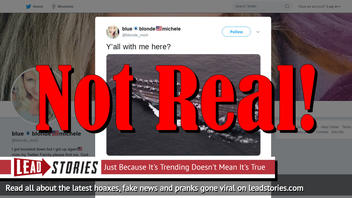 Does a photo of a U.S. aircraft carrier show sailors positioned to spell out "F--k Iran"? No, that's not true: The image that spread virally on social media after the U.S. military killed Iranian General Qasem Soleimani on January 3, 2020, and Iran vowed retailiation, was digitally altered from an aerial photo taken by the Navy in 2002. The original photo showed the sailors lined up on the flight deck of the of the USS Abraham Lincoln to spell out "Ready Now."
The photo was widely shared, including in a tweet (archived here) where it was posted on January 4, 2020, under the title "Y'all with me here?" with this faked photo: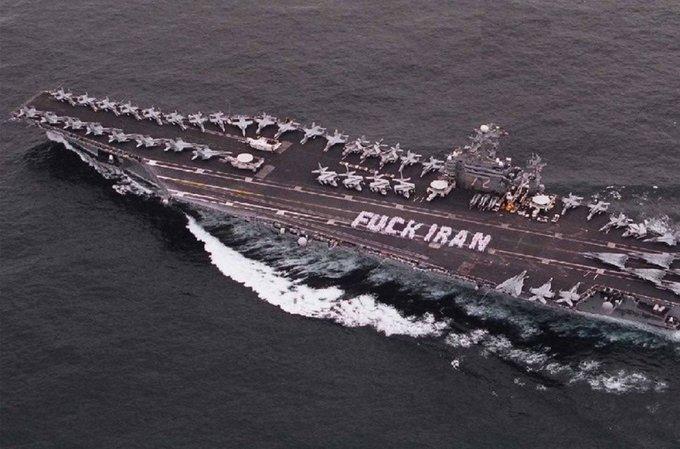 This is what social media users saw:
Y'all with me here? pic.twitter.com/vvT3QCAewW

-- blue👁blonde🇺🇸michele (@blonde_mich) January 4, 2020
This is an original photo showing the real aircraft carrier posted on the U.S. Navy's photo archive website: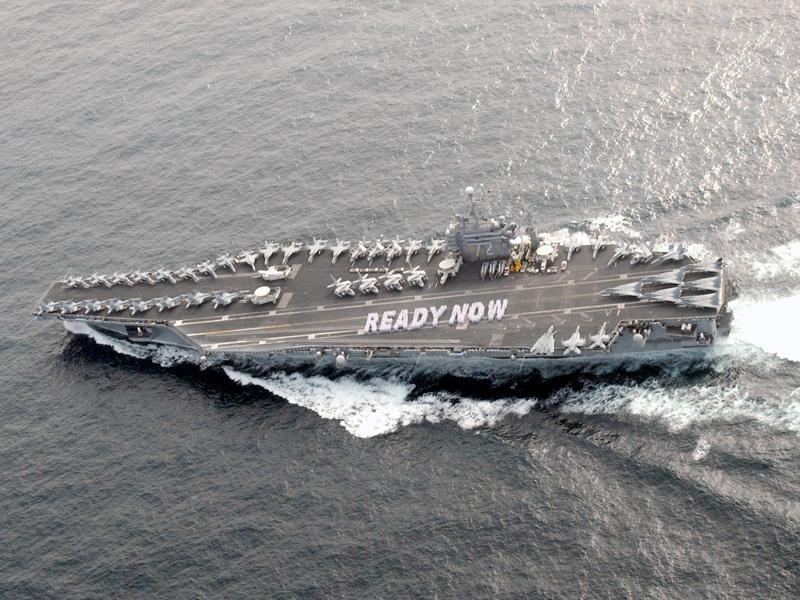 This is the caption information for the real photo:
Sep. 11, 2002 -- Responding to President Bush's admonition to "Be Ready," Sailors on the 4½-acre flight deck of USS Abraham Lincoln (CVN 72) spell out their response as the carrier, her embarked Carrier Air Wing Fourteen (CVW 14) and her Battle Group report on station to support Operation Enduring Freedom. The Abraham Lincoln Battle Group would relieve the USS George Washington Battle Group, which was scheduled to return to Norfolk, Va., shortly afterwards. U.S. Navy photo by Photographer's Mate Airman Gabriel Piper. [020911-N-6020P-021].
Buzzfeed reporter Craig Silverman tweeted about the hoax, and others followed with detailed reasons to know its old:
Aviation buffs will be quick to note the F-14 Tomcats on the aft deck. That places the photo at 2006 or before. (F-14 was finally retired that year)
Some folks on Twitter and Instagram are sharing an image of what appears to be a US aircraft carrier with sailors positioned to spell out "Fuck Iran." The real photo shows them spelling out "Ready Now" and was taken on Sept 11, 2002. Source: https://t.co/tlm9Bz6G0C pic.twitter.com/Kpm6gNsenV

-- Craig Silverman (@CraigSilverman) January 8, 2020