STORY UPDATED: check for updates below.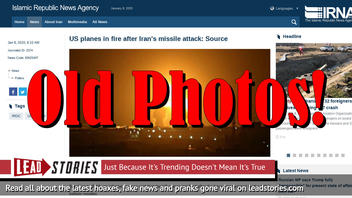 As news of the retaliatory airstrikes from Iran on Iraq's Ain Assad Air Base spread around the world the evening of January 7, 2020, fake stories and falsely attributed photos also began to surface on social media. One photo from 2019 has been put forward by many sources, including the Islamic Republic News Agency, claiming to show the actual attacks from January 7, 2020. But they are misleading in that they actually show old photos unrelated to the most recent strike.
The below story and caption feature a misleading photo supposedly showing U.S. planes ablaze after the Iranian strikes.
The above image shows the flames from Israeli missiles that struck in Gaza on November 14, 2019.
At the time, the BBC reported:
Israel has launched fresh air strikes on militant targets after renewed rocket-fire from Gaza, as a day-old ceasefire is put under strain.

Palestinian media said missiles hit sites belonging to the Palestinian Islamic Jihad (PIJ) group early on Friday, injuring two people.

It comes after five rockets were fired at Israel on Thursday following the ceasefire declaration by the PIJ.
In a time of strikes and counter-strikes, these images serve as a reminder to readers to slow down and verify the information they encounter before passing it on. Some legitimate journalists and experts are even being targeted with disinformation by fake-news purveyors who seek to use the credibility of others to spread false claims.
2020-01-10T16:14:36Z

2020-01-10T16:14:36Z

Update 1/10/2020: This article has been edited to remove mention of two tweets and the person who made them. They deleted the tweets when they realized that they had been misled by early reporting from the IRNA on the night of January 7, 2020.