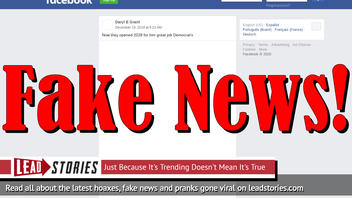 If the Senate does not bring a conviction President Trump in its impeachment trial, does it really mean Trump's first term gets nullified and he gets to run for two more terms? No, that's not true: The U.S. Constitution states no such thing.
This idea was shared in a Facebook post (archived here) where it was published by Daryl E. Grant on December 19, 2019, under the title "Now they opened 2028 for him great job Democrat's." The meme said:
If Trump is impeached in the house & not senate, he can run 2 more times. The U.S. Constitution states that if a president is impeached by the House, but not convicted in the Senate, that person's first term is nullified and they are eligible to run for office two more times. #MAGA2028
This is what social media users saw:
Conservatives appear to have eaten this one up. The post has been shared more than 7,000 times, and it has been making the rounds again now that senators have been sworn in for the trial. A similar meme was published a month earlier by Jack Prosobiec, best known for the "pizzagate" conspiracy. His Twitter post was shared more than 13,000 times.
This is completely false. If acquittal in the Senate nullified a president's term, allowing the sitting president at the time another chance to run for election - as the meme states - it stands to reason that President Clinton would have run again in 2000 on the Democratic ticket, instead of Al Gore.
Just think: There would've been no hanging chads in the 2000 election, when George Bush W. Bush won the White House after a Supreme Court battle over the handling of ballots.
The 22nd Amendment of the Constitution couldn't be more clear on how many times a person can be elected president: "No person shall be elected to the office of the President more than twice."
The Constitution, which lays out the impeachment process in Articles I and II, says nothing about nullifying a president's term on acquittal. The conservative Heritage Foundation agrees on this one, and the foundation's guide to the Constitution and impeachment can be read here.