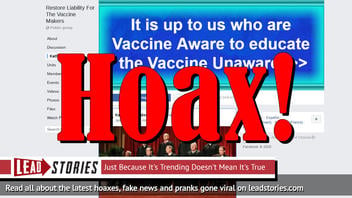 Did the U.S. Supreme Court rule that Americans do not need a licence to drive automobiles on public roads? No, that's not true: This is a made-up story that gets re-posted and shared every couple years.
The buzz started again in January of 2020 when a woman shared a link to a fake story from 2015 with Facebook users on the "Restore Liability For the Vaccine Makers" page. She shared a link to We Are Change from July 21, 2015, under the title "U.S. SUPREME COURT SAYS NO LICENSE NECESSARY TO DRIVE AUTOMOBILE ON PUBLIC ROADS." (archived here)
U.S. SUPREME COURT AND OTHER HIGH COURT CITATIONS PROVING THAT NO LICENSE IS NECESSARY FOR NORMAL USE OF AN AUTOMOBILE ON COMMON WAYS
The fact-checking site Snopes knocked the alleged ruling down, back in 2015, shortly after it began circulating. Snopes cited the fuller context of the ruling, which said:
The regulation of the exercise of the right to drive a private automobile on the streets of the city may be accomplished in part by the city by granting, refusing, and revoking, under rules of general application, permits to drive an automobile on its streets; but such permits may not be arbitrarily refused or revoked, or permitted to be held by some and refused to other of like qualifications, under like circumstances and conditions.
Snopes concluded:
In other words, the court held that although the use of public roads is a right which citizens enjoy, local authorities may nonetheless regulate such use (including imposing a requirement that motor vehicle operators obtain licenses) so long as such regulations are reasonable, not arbitrary, and apply equally to everyone.
The We Are Change site, which posted the original claim, says it is a "nonpartisan, independent media organization comprised of individuals and groups working to expose corruption worldwide."
"Our goal is to create a community of truth-seekers and peacemakers who share a commitment to nonviolent action," the site says.
The Southern Poverty Law Center has dubbed the group a "conspiracy-obsessed 'Patriot' organization" that delves into radical far-right conspiracies while trying to mask itself as a moderate group.