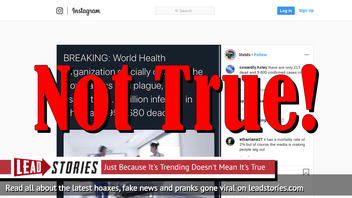 Did the World Health Organization officially declare the coronavirus a plague, as an estimated 2.9 million people are infected in China, and 950,680 are dead? No, that's not true: The WHO has declared the novel coronavirus a public health emergency, not a plague. Also, the numbers reflected on this and other memes are wildly inaccurate.
The latest claim originated from a meme (archived here) published by lilstds on January 30, 2020. It opened:
BREAKING: World Health Organization officially declares the Coronavirus as a plague, as estimated 2.9 Million infected in China and 950,680 dead.
Users on social media saw this:
The post is the latest iteration of similar memes spreading falsehoods online. Earlier versions of the meme were similarly worded but claimed 75,000 people had died.
Here are the facts: To date, at least 213 people have died from the outbreak, and about 9,800 cases have been confirmed in mainland China, according to The New York Times and other media outlets.
Cases of the coronavirus have been discovered in more than a dozen countries, including the United States, prompting the WHO on January 30, 2020, to declare the outbreak a global emergency.
The WHO did not declare the virus a "plague," as the memes have suggested. The Plague is a bacterial infectious disease, while the coronavirus - as its name suggests - is a type of virus.
We wrote about fake news on Instagram before. Here are our most recent articles that mention the site: