Is the coronavirus a "man-made" depopulation weapon? No, that's not true: There is no evidence to support this theory, which is being spread by conspiracy-minded outlets like InfoWars. While scientists are still investigating the source of the coronavirus outbreak, the U.S. Centers for Disease Control and Prevention said it appears to have originated at an animal or seafood market in Wuhan, China.
The claim surfaced in a video (archived here) published by InfoWars on January 22, 2020, under the title "Is Coronavirus A Manmade Depopulation Weapon?" It opened:
Infowars reporter Rob Dew shows the patent number to the Coronavirus which is currently ravishing China.

By the way, people who know what's coming are taking advantage of our healthy & delicious storable food!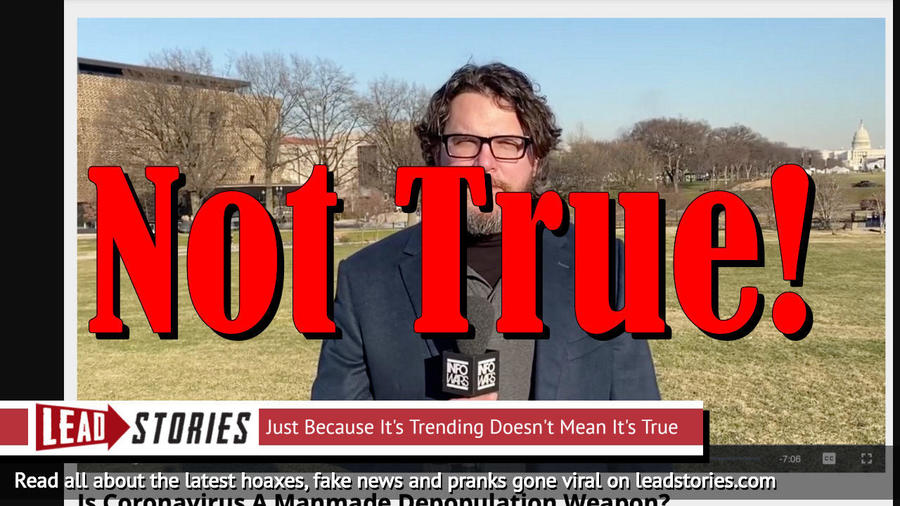 Users on social media saw this:
INFOWARS: "Is Coronavirus A Manmade Depopulation Weapon?" (7 mins)#CoronavirusOutbreak #vaccines #Globalism #NWO #Pandemic #Genocidehttps://t.co/lkXZKRAUto

-- Jan Abrahamsson 🇸🇪 (@Abrahamsson_sv) January 25, 2020
The video post featured reporter Rob Dew making several claims about the novel coronavirus, which has killed at least 213 people as of January 31, 2020, according to The New York Times.
The headline asks whether the coronavirus is a man-made "depopulation weapon." This conspiracy theory has been making the rounds since the outbreak made news about a week ago.
The Washington Post spoke with a couple of experts who debunked this rumor:
"Based on the virus genome and properties there is no indication whatsoever that it was an engineered virus," said Richard Ebright, a professor of chemical biology at Rutgers University.

Tim Trevan, a biological safety expert based in Maryland, said most countries had largely abandoned their bioweapons research after years of work proved fruitless.

"The vast majority of new, nasty diseases ... come from nature," he said.
Meanwhile, the CDC issued a situation report on the novel coronavirus, updated on January 30, 2020, which mentioned the probable source of the outbreak:
Early on, many of the patients in the outbreak of respiratory illness caused by 2019-nCov in Wuhan, China had some link to a large seafood and live animal market, suggesting animal-to-person spread. Later, a growing number of patients reportedly did not have exposure to animal markets, indicating person-to-person spread.
If the coronavirus was not lab-made, that would likely rule out the "bioweapon" conspiracy theory.
In the InfoWars video, Dew also claimed that there is a patent for the novel coronavirus and that the Pirbright Institute owns it. We've debunked similar claims that a patent exists for one type of coronavirus, but it is not the same one that originated in Wuhan, China.