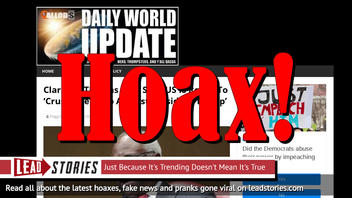 Did Associate Supreme Court Justice Clarence Thomas Say SCOTUS is ready to 'crush the coup against President Trump'? No, that's not true: This is satire, as no such words were said by Thomas, the most senior associate judge on the Supreme Court. Plus, Chief Justice John Roberts will oversee any trial of Trump in the U.S. Senate following last month's impeachment vote against the president by the U.S. House.
The story was written by a satirical website run by self-professed liberal troll Christopher Blair, who posts articles to fool conservatives into believing foolish claims. It has been stolen from Blair's site and republished as real without satire labels by others

The claim originated from an article published by Daily World Update on December 28, 2019, titled "Clarence Thomas Says SCOTUS Is Ready To 'Crush The Coup Against President Trump'" (archived here) which opened:
Supreme Court Justice Clarence Thomas is finally speaking out against the illegal coup attempts by the Democrats. In an interview with SCOTUS Today, Thomas told a reporter that the Supreme Court stands ready to kill the rebellion and restore the rule of law to Capitol Hill:

"This isn't an impeachment. It's an insurrection. Those responsible may be guilty of treason."

Thomas went on to say that his colleagues on the court -- liberals and conservatives alkie -- are not amused by the misuse of the sacred document given to our founders by God himself:
Users on social media only saw this title, description and thumbnail:
The Supreme Court stands ready to save America from the Dems.
Supreme Court justices rarely speak publicly on matters of such a sensitive nature - if at all. And Thomas is among the most quiet justices on the high bench.
The owner and main writer of the site is Blair, a man from Maine who has made it his full-time job to troll gullible conservatives and Trump supporters into liking and sharing his articles. He runs several other websites, including wearethellod.com, bustatroll.org or bebest.website. Sometimes, he is also known under his nickname "Busta Troll". A second man working on the sites is John Prager, as revealed in this earlier story we wrote.
Articles from Blair's sites frequently get copied by "real" fake news sites that often omit the satire disclaimer and any other hints the stories are fake. Blair has tried to get these sites shut down in the past, but new ones keep cropping up.
Blair and his operation were profiled by The Washington Post on November 17, 2018, by Eli Saslow:
November 17 The only light in the house came from the glow of three computer monitors, and Christopher Blair, 46, sat down at a keyboard and started to type. His wife had left for work and his children were on their way to school, but waiting online was his other community, an unreality where nothing was exactly as it seemed.
If you are interested in learning more about Blair and the history of his sites, here is something to get you started:
STORY UPDATED: check for updates below. Yesterday Eli Saslow at the Washington Post wrote a fantastic article about Christopher Blair, a man from Maine who has been trolling conservatives and Trump supporters online for years and occasionally even made a living out of it.
If you see one of his stories on a site that does not contain a satire disclaimer, assume it is fake news. If you do see the satire disclaimer, it is of course also fake news.
NewsGuard, a company that uses trained journalist to rank the reliability of websites, describes dailyworldupdate.us as:
A news site that publishes false stories and hoaxes that are often mistaken for real news. The site is part of a network run by hoax perpetrator Christopher Blair.
According to NewsGuard the site does not maintain basic standards of accuracy and accountability. Read their full assessment here.
We wrote about dailyworldupdate.us before. Here are our most recent articles that mention the site: