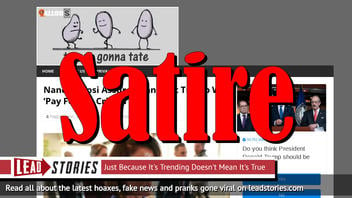 Did Nancy Pelosi assure Iran that U.S. President Trump will "pay for his crimes" following the killing of Iranian Revolutionary Guard Maj. Gen. Qassem Soleimani? No, that's not true: The U.S. House Speaker did say Trump was not "straight with Congress" about the drone killing on January 3, 2020, but she never assured Iran Trump would "pay for" Soleimani's killing. This is a piece of satire pushed by a liberal troll who tries to rile up the conservative base with stories that are very often stolen by real fake news sites, which then present the information as true.
The claim originated from an article published by Taters Gonna Tate on January 6, 2020, titled "Nancy Pelosi Assures Iran That Trump Will 'Pay For His Crimes'" (archived here) which opened:
Nancy Pelosi may have just committed treason. In an open letter to the Iranians sent directly to their embassy in Kamchatka, Pelosi apologized for the killing of General Solemaini and promised that Trump would pay:

'It is our sincerest hope that any response by Iran be directed at the man responsible and not the American people, as he only represents a small minority of idiots. Please accept my apology on their behalf, as they are too dense to understand that this whole thing is nothing but a play for another endless war.

'I give you my word that Trump will pay for his crimes through legal means. He is already impeached and powerless, though that hasn't stopped him from dictating foreign policy and making unilatteral decisions that are detrimental to the safety and security of the entire world.'
Users on social media only saw this title, description and thumbnail:
So now she's on their side?
No, Pelosi is not on their side.
Soleimani was killed in a U.S. strike at the Baghdad airport that was ordered by Trump, who said at the time he ordered the killing because the general was plotting imminent attacks against Americans. Soleimani, who led the Revolutionary Guard's elite Quds Force, is widely considered to be the mastermind behind Iran's military operations in Iraq, Syria and elsewhere.
In the days that followed the strike, questions were raised by U.S. lawmakers after conflicting accounts about the reasoning for the strike were given by Trump and his administration. Pelosi said Trump was "not straight" with Congress about the killings. The House voted on January 9, 2020, to curb Trump's war powers against Iran. The Senate is due to take up the resolution, but it has been stalled pending the outcome of the impeachment trial.
The satire piece about Pelosi was first lifted by the fake news site, the Massachusetts Daily, which appears to have popped up in 2019 and has a history of stealing satire content and reporting it as fact, as well as altering facts to suit its narrative.
The satire site -- Taters Gonna Tate -- is part of the "America's Last Line of Defense" network of satire websites run by self-professed liberal troll Christopher Blair, of Maine, along with a loose confederation of friends and allies. Blair has been in a feud with fact-checking website Snopes for some time now and has previously criticized other fact-checkers who labeled his work as "fake news" rather than satire. In reaction to this, he has recently rebranded all his active websites and Facebook pages so they carry visible disclaimers everywhere.
Every site in the network has an about page that reads (in part):
About Satire
Before you complain and decide satire is synonymous with "comedy":

sat·ire
ˈsaˌtī(ə)r
noun
The use of humor, irony, exaggeration, or ridicule to expose and criticize people's stupidity or vices, particularly in the context of contemporary politics and other topical issues.

Everything on this website is fiction. It is not a lie and it is not fake news because it is not real. If you believe that it is real, you should have your head examined. Any similarities between this site's pure fantasy and actual people, places, and events are purely coincidental and all images should be considered altered and satirical. See above if you're still having an issue with that satire thing.
Articles from Blair's sites frequently get copied by "real" fake news sites who often omit the satire disclaimer and any other hints the stories are fake. Blair has tried to get these sites shut down in the past, but new ones keep cropping up.
Here is a video of Blair explaining how his process works:
If you are interested in learning more about Blair and the history of his sites, here is something to get you started:
STORY UPDATED: check for updates below. Yesterday Eli Saslow at the Washington Post wrote a fantastic article about Christopher Blair, a man from Maine who has been trolling conservatives and Trump supporters online for years and occasionally even made a living out of it.
If you see one of his stories on a site that does not contain a satire disclaimer, assume it is fake news. If you do see the satire disclaimer, it is, of course, also fake news.
NewsGuard, a company that uses trained journalist to rank the reliability of websites, describes tatersgonnatate.com as:
A site that publishes false stories and hoaxes that are often mistaken for real news, part of a network named America's Last Line of Defense run by hoax perpetrator Christopher Blair.
According to NewsGuard, the site does not maintain basic standards of accuracy and accountability. Read their full assessment here.
We wrote about tatersgonnatate.com before, here are our most recent articles that mention the site: