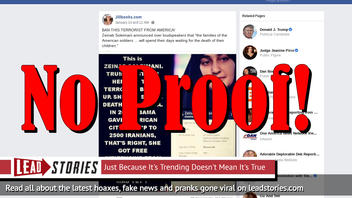 Is the daughter of slain Iranian Gen. Qassem Soleimani an American citizen? No, that does not appear to be true: There is no proof that Zeinab Soleimani became a U.S. citizen because of the Iranian nuclear deal. A meme being shared online cites an entertainment-based wiki page that has since been changed.
The claim originated from a post (archived here) published by Jillbooks.com on January 14, 2020, under the title "BAN THIS TERRORIST FROM AMERICA!" It opened:
BAN THIS TERRORIST FROM AMERICA!
Zeinab Soleimani announced over loudspeakers that "the families of the American soldiers ... will spend their days waiting for the death of their children."
This is what social media users saw:
Memes like this circulating online have claimed that President Obama gave U.S. citizenship to 2,500 Iranians as part of the Iran nuclear deal. As Snopes has already pointed out, this rumor is unproven:
We found no evidence that 2,500 of those persons were given preferential treatment as a result of nuclear deal negotiations.
The meme being shared is filled with grammatical errors and offered no proof to support the rumor that Obama gave hundreds of people, including Zeinab Soleimani, U.S. citizenship. The claim suggested it was part of the Iran nuclear deal negotiations.
In 2015, Iran agreed to limit its nuclear activities under the Joint Comprehensive Plan of Action (JCPOA). In 2018, President Trump announced the U.S. would withdraw from the deal.
As to the claim that Zeinab is a U.S. citizen, the meme shows a wiki biography from an entertainment site that lists her nationality as American. A screenshot from archive.org on January 5, 2020, listed her as American. However, on January 7, 2020, the site was updated to show she is an Iranian citizen. (Iran does not recognize dual citizenship.)
On January 7, 2020, Instagram pulled an account that was impersonating the Voice of America Persian, the U.S. government's news agency in Iran, The New York Times reported. At issue: a viral post spreading disinformation:
The Instagram post included a video clip of slain Iranian Gen. Qassem Soleimani's daughter, Zeinab, speaking at his funeral. The caption of that Instagram post, written in Farsi, claimed that Zeinab Soleimani said she was a U.S. citizen. The post had more than 28,000 likes and 10,000 comments by Monday evening.
The newspaper reported that Iranian media had rejected the reports that Zeinab was a U.S. citizen, but the claims still spread online.
Memes can say anything without offering sourcing or links to back up their claims. They are a useful tool to stir up anger or spread disinformation online, and they are cheap to create. Readers should exercise caution and not assume what they read on a meme is actually true.