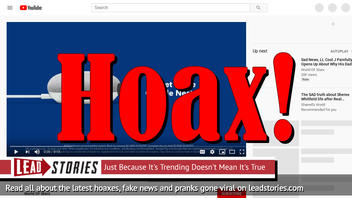 Does actress Pam Grier have only a few days left to live after her battle with stage 4 cancer? No, that's not true: The claim was made in a YouTube post that carried a false headline but no details to support it in the video. Grier's representative has confirmed the claim is bogus. The channel that published the video was also recently busted for falsely claiming that TV host Robin Roberts was dying of cancer.
The claim originated from a video (archived here) posted on the World of Stars YouTube channel on January 2, 2020, under the title "Prayers Up, Pam Grier Have Only Few Days To Live After Her Battle With Stage 4 Cancer". It opened:
Hello and welcome to another post. Pam Grier successfully battled cancer despite doctors giving her a death sentence. She revealed the journey was lonely but credits her survival to two factions of medicine. She's famous for portraying the tough girl who knows how to handle a gun. But Pam Grier's true toughness revealed itself when she was forced to battle the big C.
This is what social media users saw:
This is an example of the false video being shared as true on Facebook:
TMZ shot down the healh rumor on Friday, January 3, 2019, in a report titled Pam Grier No Stage-4 Cancer Here!!! Despite Social Media Rumor:
A rep for Pam tells us the rumors are bogus ... she's as healthy as ever. Pam's rep says Grier will be headed to work tomorrow on season 3 of her ABC show, "Bless This Mess." Pam puts in 8-10 hour days when she's working. Grier was diagnosed with stage-4 cervical cancer in 1988 and given just 18 months to live. Through tough treatment, she made a recovery and has been in remission ever since.
While the video headline makes the claim that Grier has "ony few days to live," the actual video is simply a female narrator reading an old profile story about Grier's earlier successful battle with cancer. We found that story from May of 2019, titled 'They Gave Me Only 16-18 Months to Live,' Pam Grier on Hardships She Faced Fighting Cervical Cancer.
This was the second false celebrity health video by this channel that Lead Stories has debunked. See our December 16, 2019, story titled Fake News: NOT Sad News, Robin Roberts Does NOT Painfully Reveal Her Breast Cancer Has Return.