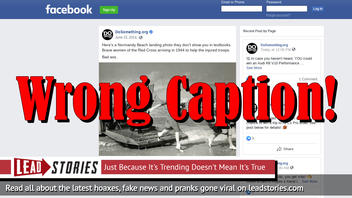 Does a photo show women from the Red Cross arriving at a Normandy beach in 1944 to help injured troops? No, that's not true: The photo is real, but it was not snapped at Normandy. Actually, it was taken in the French Riviera in 1945, seven months after the D-Day Invasion.
The story originated from a post (archived here) published by DoSomething.org on June 15, 2014. It opened:
Here's a Normandy Beach landing photo they don't show you in textbooks. Brave women of the Red Cross arriving in 1944 to help the injured troops.
Bad ass.
Users on social media only saw this title, description and thumbnail:
The vintage photograph has been shared many times over the years, but the captions have not always accurately reflected what happened.
On June 23, 2016, the American Red Cross published a blog post titled, "What's the Story Behind This Iconic Photo?" The author noted that the image shows a U.S. Coast Guard-operated ship unloading passengers in the South of France, the Côte d'Azur, as it is known. The photo was taken on January 15, 1945, according to the Red Cross, not 1944, as the post claimed.
The caption may be wrong, but the bravery of the women pictured is not in question. Nor is that of the roughly 74,000 women who worked as nurses in the Army and Navy during World War II.
The article said:
During World War II, some Red Crossers overseas provided aid to and operated clubs for members of the armed forces, while others served in field and evacuation hospitals and on hospital trains, ships and planes.
While the picture does not show it, many other women helped out in field hospitals and medical evacuation planes in Normandy. This site shares some of the stories of these nurses, and the Veterans History Project is working to catalog many of their experiences.